Installation

and Maintenance
News
style advices
and curiosity
from the world
of ceramic

The beautifully traditional Chevron shape springs back to life thanks to Ceramica Rondine
The 7.5x40.7 size pressed tile from the Rubiera company is unrivalled on the entire Italian ceramics market.
Also known as "Point de Hongrie" – literally, Hungarian stitch –, this splendid shape is used to create a herringbone laying pattern that brings a hypnotic, alluring intarsia effect to floors and walls.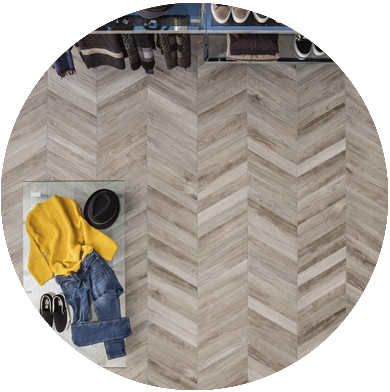 The inimitable Chevron effect, particularly popular in Hausmann's Paris in the 19th century, is not only elegant and sophisticated; it is also impressively versatile. The Chevron tile can easily be combined with the 7.5x45 cm listel tile (as shown in the video), and can be used for eight different laying solutions, each of which brings a unique touch of character to settings, recreating all the marvellous appeal of the exquisite intarsia work of period buildings.
This impressive tile option is further enhanced by the technical quality of the porcelain stoneware and the advantages it traditionally guarantees: it is waterproof, resistant to chemical agents, tread resistant, easy to maintain and frostproof.