News
style advices
and curiosity
from the world
of ceramic

Marble effect ceramics. Timeless elegance.
Classic and elegant, marble effect ceramics bring back the timeless charm of the materials of a bygone era. Here is a brief outline of the marble effect designs and creations by Ceramica Rondine. Marble is that metaphoric rock that has always succeeded in bringing splendour and gloss into the home. It is no coincidence that this term stems from the Ancient Greek, literally: "shiny stone".
It is this very characteristic that makes it a material which warms the rooms of any home, adding a touch of refinement and elegance with the charm of soft surfaces such as Travertine, Slate or Lava Stone. This material also has the unique quality of creating unison between the inside of the home and the outdoors, an architectural concept that blends perfectly with the nature and any surroundings.
However, marble does have several disadvantages in terms of resistance and practicality: this surface is in fact highly sensitive and can be easily stained as it is absorbent. From this point of view, stoneware is better without any doubt: very easy to clean, it is highly durable and requires no special treatments or processes.

In addition, the latest technology in ceramic production makes it possible to obtain a marble effect which is aesthetically perfect. The ceramic product reproduces the typical veins found in the natural stone and the same level of gloss, thus creating bright, elegant spaces. This is a winning choice in terms of both functionality and beauty, a perfect blend of technology and design to create very striking and original layouts and nuances.
Marble effect flooring brings light into any room in the home and can also be teamed with interesting accessories and modular furnishings.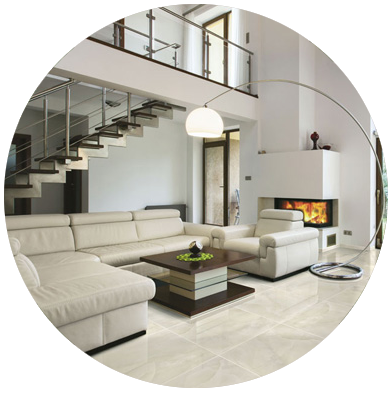 Elegance. The charm of classic marble.
The lustre of marble due to the low refractive index is perfectly recreated in this marble effect ceramic which emphasises the beauty of this very noble material thanks to the large dimensions available. The sizes 60x90 cm and 60x60 cm are rectified, polished and can be used together in any combination.
The polish obtained with state-of-the-art nanotechnology guarantees not only a superior level of gloss but greater durability and a high level of stain resistance. Elegance adds a touch of class to any space in the home, emphasising the beauty of classic marble, and is ideal for use in various areas.
Class. Marble effect in a graphic mix.
The design experience in Ceramica Rondine's R&D department have led to the creation of these highly innovative marble effect tiles which are soft to the touch. Class thus recreates the elegance of this very noble material with the body and simplicity of stone. The result is a mixture of graphics in modern, trendy colours such as black, grey, dove and white-beige. This collection can be used for both flooring and wall tiling.