News
style advices
and curiosity
from the world
of ceramic

Scandinavian style
A new furnishing style from way up north. A perfect blend of shape and function, rigour and sophistication.
The main features? Clean-cut lines, subtle shades and neutral materials, above all wood. Let's take a closer look.
Scandinavian design takes much of its inspiration from nature, especially as regards the materials used. Wood plays a starring role here, bringing rigour and elegance to every setting. These two key words perfectly describe the Decapé collection, able to bring a technical porcelain stoneware slant to oak wood, skilfully aged and ideal for those looking for a sophisticated, timeless style.
The colour range is simple too, mostly featuring shades of white and its eternal contrast, black. An example? The "Dark" shade in the Galaxy porcelain stoneware collection, perfect for adding character and elegance to every room. Available in the sizes 30.5x60.5 – 30x60 rectified – 60x60 rectified and 45x90 rectified, Galaxy is an innovative combination of the typical features of concrete and the streaked appearance of stone, for a strikingly original end result.
WARMTH AND COMFORT WITH FABRICS
Natural and raw where possible, such as wool.
Open up your home to warm covers and blankets with geometric designs or patterns inspired by the world of plants and wildlife.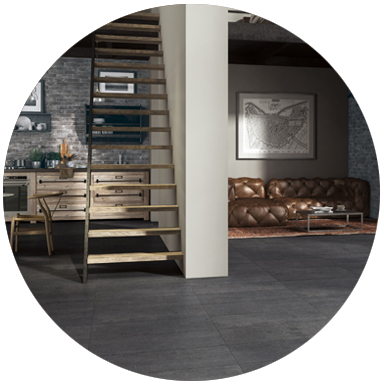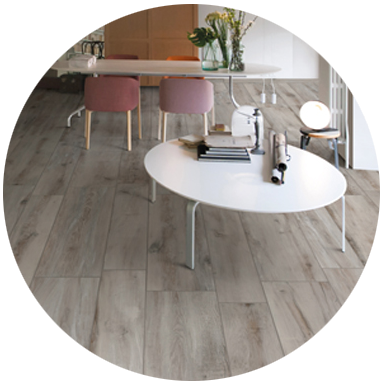 WHEN IT COMES TO FURNISHINGS, LESS IS MORE
Nothing over the top or pompous: tidy, simple lines and graceful, geometric shapes.