News
style advices
and curiosity
from the world
of ceramic

The outdoor life. The must-have features for ceramics in the open
Spring is the season that every year reintroduces us to the pleasure of those areas of the home we've left to rest during the colder months. Terraces, balconies and gardens stretch our living spaces from indoors towards the exterior, and this is an advantage to make the most of. What's the best way to do this?

There are some places (however large or small the space available) that nestle so beautifully within the surrounding area, be it natural or urban, that they require little effort in the way of furnishings. Design makes it easy for us to shift effortlessly between a variety of different styles.
So finding the look best suited to our tastes will be a simple task. If we're not quite sure about classic wood or wicker furniture, we can go for more unusual materials: from lava stone to pressurised aluminium, or even wrought iron.
And when it comes to lighting we're also spoilt for choice: we might choose standing lamps with a contemporary look, or led spotlights for a more minimal style, an excellent solution for lighting up pedestrian walkways or green areas.

One thing is for sure, however: whatever our living style or the architectural fil rouge running through the areas of our home – living room, kitchen, bathrooms and bedrooms – they must be expressed outside too.
It's only by seeking a seamless shift from indoors out, experimenting with spaces in such a way as to render them interchangeable, that we will be able to ensure they are used in a way that fits in with our needs and our desire for comfort.
This is why it's important for indoor and outdoor covering areas to run smoothly from one area to another. Ceramica Rondine designs and creates collections in porcelain stoneware able to coordinate beautifully with one another. And there's more.

Thanks to the innovative 2 cm high self-supporting flooring system, today you can find a solution that is extremely easy to lay – duty on gravel and grass, glued onto a slabs or raised on rigid supports – and does not require particular technical expertise or complex laying operations.
Ceramica Rondine offers two "crossover" tiles that allow you to take your style choices from indoors to the outside.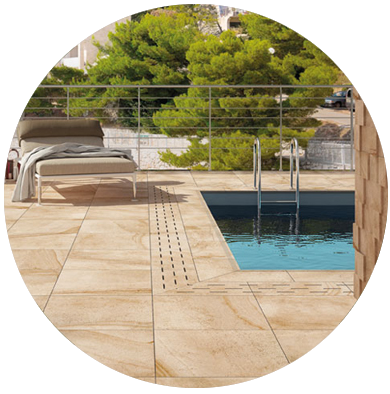 Class, stone and marble for life nestling in nature
Ceramica Rondine's research and development team takes its inspiration from the rich variety of natural material, to skilfully develop the Class collection, a stone-effect porcelain stoneware with a distinctively smooth, soft surface that combines the sophisticated elegance of a top-class material like marble with the simplicity and body of stone.
A mix of patterns, in modern, style-setting colours such as black, grey, dove grey and white-beige.
Hard & Soft, the fragrance of aged wood
The fragrance of aged wood has inspired a collection with a powerful tactile and material appeal. With Hard&Soft, the porcelain stoneware tiles are shaped into wooden staves that reflect the passage of time. This is a surface bursting with life, as if expert craftsmen had shaped each ceramic element by hand.
The veinings on the wood run authentically through the stoneware, perfectly mimicking the wood thanks to the most advanced digital technologies. The collection comes in three sizes - 15x61, 15x100 and the innovative 2 cm thick 45x90, in a variety of colours.