News
style advices
and curiosity
from the world
of ceramic
The Wall, the new allure of the Brick Generation
The material allure of brick surfaces is given a contemporary twist in the new ceramic collection by Rondine. The Wall takes its inspiration from traditional open brick, turning it onto a perfectly versatile wall covering solution thanks to the audacious colour options.
Brick wall tiles are a top interior design classic, ideal for bringing a metropolitan allure to home surfaces, and the new series The Wall aspires to add a new version to the Rondine Brick Generation series. This new addition is even easier and quicker to apply, in the new 6 mm thickness, making it also suitable for use outdoors.
The distinctive feature of The Wall stoneware is the rich variety of colours, ranging from the more traditional Red and Old Red typical of the bricks the collection is inspired by to the more modern shades White, Grey and Dark, perfect for minimalist, contemporary settings.
The authentic tactile sensation of the stoneware and the supremely creative colour palette are the elements that shape the expressive power of the new series, designed to bring fresh appeal to a surface like brick, with a long tradition behind it.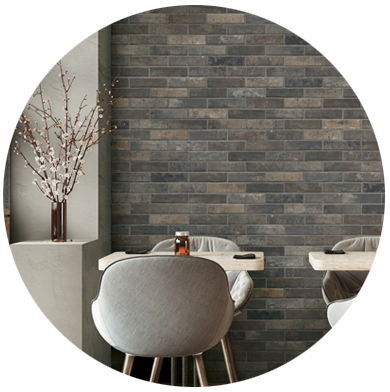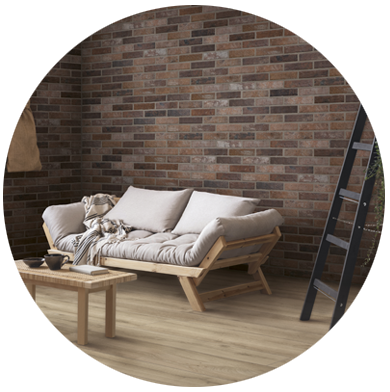 With the mesh-backed 51.6x27.2 size, The Wall is particularly suitable for renovation projects, making laying faster and more effective.
Ceramic tiles are just as suitable, however, for creative crossover effects, thanks to the innovative 6x25 size with a thickness of 6 mm, also ideal for outdoors: the outdoor surfaces maintain the style and appearance of brick, teaming it with the peerless durability and resistance of Rondine porcelain stoneware.

While the idea was based on one of the most classic materials, the development of the collection took the direction of an audacious tactile reworking of brick, with the aim of seeking a perfect balance between the functional nature of the covering material and the urban chic character of the decorative solutions.
Discover the collection The Wall by Rondine