News
style advices
and curiosity
from the world
of ceramic

Your home in black and white. Ceramics with style
Ceramica Rondine collections offer a wide variety of monochrome solutions. But it is B/W that takes us on a minimal, maxi-chic journey into the very heart of design.

When a home takes shape, when it is time to decide the look we want for every room, every area, colours take centre stage, and have a crucial role to play.
Choosing black and white for walls, floors and furnishing elements means taking a trip down the road to spectacular elegance.
We are looking at a style created by experimenting with the simplest of colour contrasts, using the two shades that – when skilfully combined – are able to bring a splendidly contemporary touch to any setting.
Furniture and furnishing elements must engage in a smooth, subtle dialogue, and that's why it is important to choose the right finish: if you go for glossy, for instance, this effect should be reflected in other elements of the home; if you prefer matte, make sure not to ruin the effect by choosing the wrong sort of contrasts.

Light is another variable that must not be neglected. A predominantly white colour scheme is recommended for areas where lighting is scarce, while brighter areas of the home can take more daring black touches.
In contrast with popular belief, black and white design has a warm, inviting temperament, because it creates beautifully striking light effects and contrasts.
This no-frills pairing is also wonderfully relaxing for the eyes and for the mind; the combination of these basic, essential colours has a simple, clean-cut, appealing effect that soothes the senses.

For accessories and furnishing elements, a number of different styles can be contemplated: from optical and geometric lines to pop-style comic looks, as well as simpler, classy plain colours.

Fancy dressing up your home in pure Black and White style?
Ceramica Rondine floors featuring contrasting black and white are able to create a sophisticated environment, a modern setting made up of sublimely appealing spaces.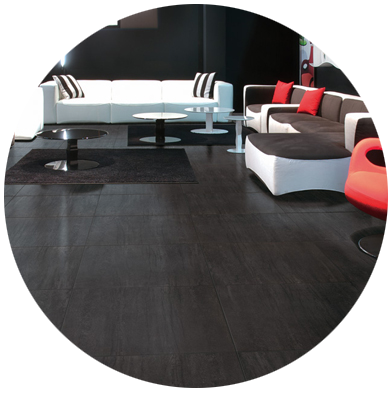 Supremely elegant black stone
Outstanding technical characteristics meet the simple allure of natural material, and ceramics take on an innovative, revolutionary air, ideal for meeting the project requirements of architects, designers and professionals.
With the stone effect of Contract stoneware, Ceramica Rondine takes its inspiration from richly veined textures with superbly natural details, creating a particularly hard-wearing tile suitable also for outdoor use.
Contract is a collection that also offers a wide range of tiles in the neutral shades of white and silver, the huge advantage of which is their ability to light up any setting, thus significantly boosting the perception of space by creating beautiful light effects. But this collection by Ceramica Rondine is more than just a unique concentrate of aesthetic features. These floor and wall coverings are the fruit of painstaking research into ceramic surfaces, an experimentation process that has made it possible to develop superb technical characteristics able to guarantee excellent stress and tread resistance. This makes them the ideal solution for stores, boutiques, shopping malls and all kinds of areas where high-performance tiles are required.