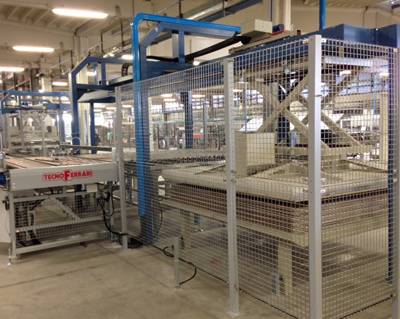 Ceramica Rondine investing and expanding
A major investment endorsing the Group's philosophy of staying at the forefront of new technological developments and pursuing design and engineering solutions at the cutting edge. Ceramica Rondine's manufacturing sites – located in Rubiera, Vetto and Sassuolo – have been busy installing the new additions to their plant in recent days with the implementation of new automated sorting and packing lines.
The innovative cutting and rectification line is a particularly important addition to the production line, as it offers the guarantee of perfectly precise sizes of finished tiles.
These latest developments have made it possible to extend the ceramics collections with new and interesting solutions, such as the latest sizes: 45x90 with 22.5x90 and 15x90 cut sizes; 60x120 with 20x120 and 30x120 cut sizes. Ceramica Rondine's premises will reopen on Sunday 8th February when the new machinery will be officially unveiled.
From 5th to 8th April COVERINGS goes on stage, the largest and most significant exhibition on ceramics and natural stones in the United States and North America.
Read more..
---
Serie Loft wins at the German Design Awards 2021 in the category Excellent Product Design - Building and Elements and in the Excellent Product Design - Eco Design category
Read more..
---