News
style advices
and curiosity
from the world
of ceramic

Ceramica Rondine on Real Time, stoneware takes to the small screen
"Vendo casa disperatamente" is an Italian reality show shown on the Real Time channel. The popular TV show focuses on restyling operations carried out on homes and apartments, in which sitting rooms, kitchens and bedrooms are given a makeover by skilful architects with a careful eye on the latest trends. The presenter and estate agent Paola Marella brings a new look to a home in Milan, bringing a much more personal, distinctive style to the residential setting.
The apartment in Milan needed a more contemporary, modern look that would give it enhanced appeal on the property market and bring it into line with the youthful mood of its new occupants. The furnishings were modified and replaced, while the floor required a solution able to bring a warmer allure to the home, while requiring minimum maintenance.
What was laid on the floors?
The choice fell to a collection that seeks to recreate the warm allure of wood: Mythos, the ceramic collection in earthy shades that is part of the Stoneware Forest project by Ceramica Rondine, which offers leading-edge solutions in terms of both quality and eco-sustainable production. The timeless allure of parquet meets the resistance and practical appeal of the ceramic surface.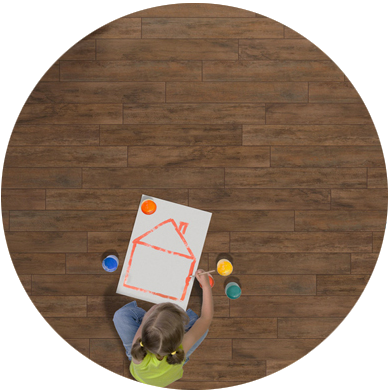 Mythos, the porcelain stoneware with a warm allure
The new Mythos line offers an incredibly faithful reproduction of the appearance, tactile sensations and grain of natural wood. Presented in 5 different colours - Brown, Azur, White, Red and Beige – it effortlessly earns pride of place in contemporary living spaces thanks to its silky-soft feel, pleasant, earthy nuances and the appealing shifts in colour that team with an endless variety of grain effects.
Rondine complements this beautifully natural appearance with the finest features of porcelain stoneware, creating an outstanding product that combines design with the excellent resistance demanded of contemporary living spaces.
Step into the Foresta di Gres and discover how ceramics emulate the beauty of wood.