News
style advices
and curiosity
from the world
of ceramic

Combining different surfaces. Material dilemmas
Today's interior design trends revolve around increasingly minimalist spaces, characterised by coordinated furnishing accessories able to establish a perfectly smooth dialogue between the bearing structures of residential areas and architectural and design elements.
Underlying every choice we make for our homes, there must therefore be a clear overall vision. Contemporary tastes lean towards continuous surfaces, in which no visual interruptions or abrupt shifts in materials are contemplated.

Uniform style and colour does not, however, mean limiting choice to a single covering material, and very often different laying schemes help us to mark off the various areas of the home more effectively. One of the issues raised by renovation projects may be how to combine two rooms or areas that were once separate.
Another variable to take into consideration is the possibility of combining two surfaces on two different levels; and lastly, colours and possible colour combinations may raise questions and stimulate reflection.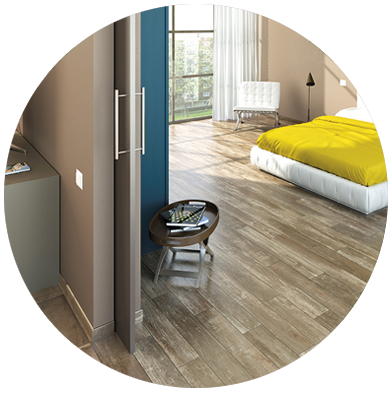 Ceramica Rondine has developed a dual, yet unequivocal solution able to combine the elegant allure of parquet flooring with classic cotto, using an innovative product for the joints able to solve any material dilemma: Amarcord, named as a homage to the sophisticated style of a classic that has left its mark on the history of international cinema.

Two traditional materials with a long history form a fortunate combination, allowing for the development of perfectly coherent, smooth laying schemes in both continuous and non-continuous settings.
The cotto-effect stoneware is used for the living area, helping to create the convivial atmosphere required for a kitchen, where creativity has such an important role to play, or for a sitting room to relax in.

In the sleeping area, ceramic tiles give way to parquet flooring, for a supremely warm, comfortable effect. The shades available allow for the creation of a pleasantly balanced, continuous solution and a smooth, linear appearance in line with contemporary trends.
Combinations can work, if they are created with style. This is how to avoid the most common mistakes.
#1. No to very strong colours.
Sticking to neutral shades and similar textures helps to prevent senseless colour shocks. To bring a lively touch to the home, you can then add multi-coloured fabrics or bright furnishing accessories.

#2. Never underestimate the difference a detail can make
Decorative elements and special trims are a superbly attractive way to frame a part of a wall. Consider, for example, listel tiles, able to bring a touch of character to the bathroom, or the protective function of mosaic tiles behind the kitchen sink.

#3. Never forget comfort and reliability
When choosing the right material, never forget the practical aspect and what it is to be used for. From this point of view, stoneware offers an inviting combination of beauty and practical advantages: it is both reliable and hard wearing, and a wide range of modular sizes and shapes can be combined.