News
style advices
and curiosity
from the world
of ceramic

Concrete-look ceramics for a 100% industrial look
Inspired by disused warehouses, abandoned factories and industrial buildings, this is a style that gives a contemporary makeover with an urban twist to your home.
What solutions for floors and walls are best for creating this kind of look?
This is a trend that has its roots in the US building styles of the 1950s, adopted with conviction also in Europe from the 1970s onwards, and it derives from constructions once used for industrial manufacturing or material storage.
It first took hold in the Big Apple for practical, functional reasons rather than as a question of style, and the intention was to recover abandoned premises and turn them into residential complexes. Large, open-plan constructions with high ceilings and large windows were the hallmarks of such homes, which were soon settled in by artists and members of US bohemian society. An example? The Factory of Andy Warhol, which generated a host of artistic and cultural stimuli under the aegis of pop art.

This new industrial revolution soon spread like wildfire, and Europe has also been won over by its vintage allure and the rough-look ambience created by open-beam structures, pale-coloured plaster, bricks and resins.
To give a contemporary touch to your home, go for furniture with an aged look, created using materials such as iron and wood.
Simple, recycled pieces combine marvellously with standing lamps and suspension spotlights. Soft leather sofas positioned close to a cast-iron stoves, details and accessories picked up at antiques markets – all these are ideal solutions for the sitting room.
In the kitchen, the best choice to go for is clearly visible worktops, with a wood or plywood top dinner table.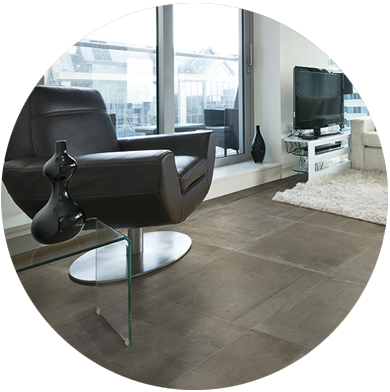 A collection such as Icon by Ceramica Rondine is perfect for creating this sort of setting. The tiles enhance all the allure of a floor worn down by the passage of time and footsteps, and are the perfect complement to an urban, metropolitan look. They come in the colours almond, black, light, gray, olive and sand.
Ideal for both residential and public areas, these ceramic tiles look magnificent with minimalist-style interior design elements.
Betonage, the quarterdeck-style collection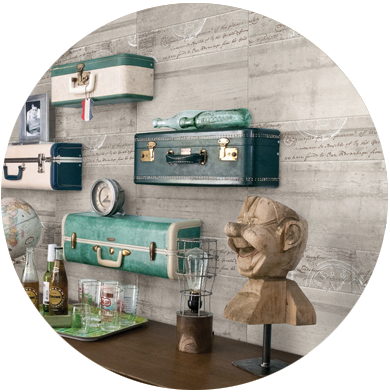 And what about the floors and walls?
For an authentic industrial-style penthouse, the ideal choice is a porcelain stoneware floor that mimics the effect of stone slabs and time-worn concrete.