News
style advices
and curiosity
from the world
of ceramic

Floor coverings: how to choose? Tiles and styles
A sophisticated style is a must when it comes to choosing the most appropriate ceramic solutions for walls and floors.
Country style, shabby chic or elegance, for a timeless, everlasting result. Ceramica Rondine has the solutions, whatever the mood you're seeking for residential settings.
Present on the floors of our homes, in the kitchen, living room and bathroom, ceramic tiles are an integral part of our residential settings, forming a backdrop to our everyday lives.
They bring a unique, personal touch to our homes, adding distinctive character that is a perfect complement to the architectural and interior design elements.
Today, porcelain stoneware offers an endless variety of creative solutions, combining colours, textures, special finishes, surface and body treatments, sizes and thicknesses, allowing for a brilliant execution of any idea or project.
What kind of mood and living style are we seeking to create for our home?
Let's take a look at some different trends.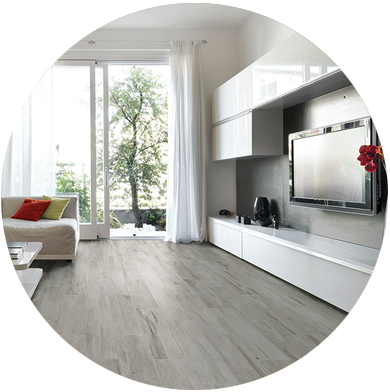 Natural lifestyle: tiles that seek to create natural effects
The desire for a living style that mimics the shapes and hues we find in nature brings the colours and shades of the natural habitat right into the home. Soft shades and graceful lines create an alluring light and shade effect.
To breathe life into this design mood whose leitmotiv is a sustainable approach to living styles, Ceramica Rondine takes us into the heart of the Foresta di Gres, a new, eco-sustainable project in which ceramics are used to create striking tactile and material sensations, similar to those offered by wood.
The distinctive grains and gnarls of fine-quality wood to bring a smooth, warm allure to the home, teamed with the impressive resistance typical of ceramics.
Visual and Chalet are the latest creations by Ceramica Rondine: two stoneware collections that offer an in-depth exploration of the tactile power of a living material.
Elegant and chic: the marble effect
For those seeking to create a more sophisticated home environment, the style choice to make is one featuring surfaces in soft, bright, glowing shades. When porcelain stoneware takes on the most delicate hues of the finest marble, the result is timeless, universal elegance.
This is a striking style choice able to beautifully offset any type of furnishings, offering enormous advantages over actual marble, including greater mechanical resistance and greater resistance to abrupt shifts in temperature; it is also less expensive and easier to clean and maintain.
Eramosa, the Ceramica Rondine collection that takes its name from the marble variety, envelops living spaces with tobacco-coloured veining effects, and features charmingly sophisticated decorations on the walls.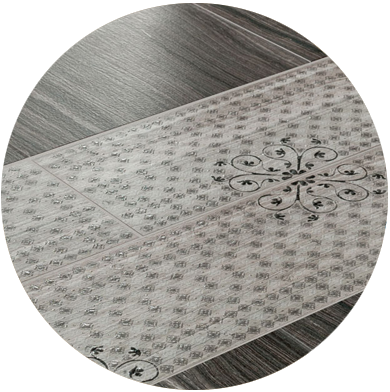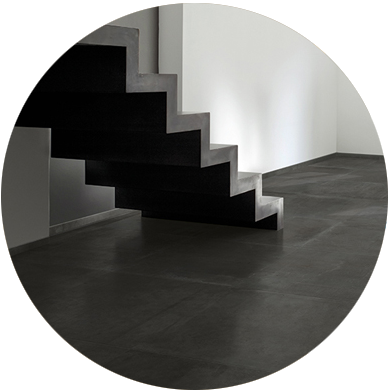 The industrial touch. Dark colours and a contemporary approach
Industrial decor takes its inspiration from the raw look that was once exclusive to industrial settings, marked by elements such as cracks and rough finishes. This mood can be created by skilfully combing vintage – or recycled – furniture with technical or steel elements. Patinas, visible welding and steel elements come together to create a decadent, ultra-contemporary effect.
The best solution for the floors is a cement-effect stoneware with plenty of substance, in colours ranging from anthracite grey through to black.
A raw appearance enhanced with a striking tactile sensation.
Icon, the latest collection from Ceramica Rondine, offers a second skin that brings a strikingly contemporary slant to living spaces.