News
style advices
and curiosity
from the world
of ceramic

Galaxy Summertime Dreaming
Outdoor areas require extra-high-performance products, able to keep looking great over the years.
These technical solutions need to combine beauty with safety to guarantee the outdoor experience you're looking for.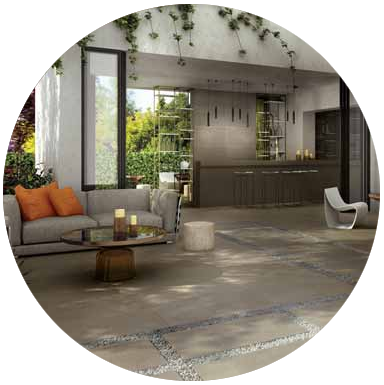 Solutions for outdoors that team design with practical appeal and comfort
Of all the materials available for outdoor paving, stoneware is guaranteed frostproof and slip resistant, and remains unaltered over the years. It's also easy to lay and maintain.
Ceramica Rondine has brought a contemporary twist to this high-tech material with the Galaxy collection, inspired by the material power of stone and limestone cement, guaranteed to offer a complete, versatile furnishing solution for both indoor and outdoor settings. This makes it ideal for those seeking to create continuity between the two, in keeping with the latest interior design trends for 2016.
COLOURS, TEXTURES AND SIZES
The collection comes in a bang-up-to-date, on-trend colour range, and all shades have the pertinent NCS®© notation to help you create tone-on-tone and contrasting combinations.
The rectified 45x90 sizes with a thickness of 2 cm and the 60x60 Grip with anti-slip surface are perfect for outdoor areas.
They stand up to inclement weather, abrupt shifts in temperature, electrostatic loads, abrasions, mould and fire.
For interiors, an ideal solution is offered by the rectified sizes: 30x60 - 60x60 and 45x90.
The series is completed with decorative elements to create special surfaces, such as the 30x30 mosaic tile and the 30x60 low wall tile.