News
style advices
and curiosity
from the world
of ceramic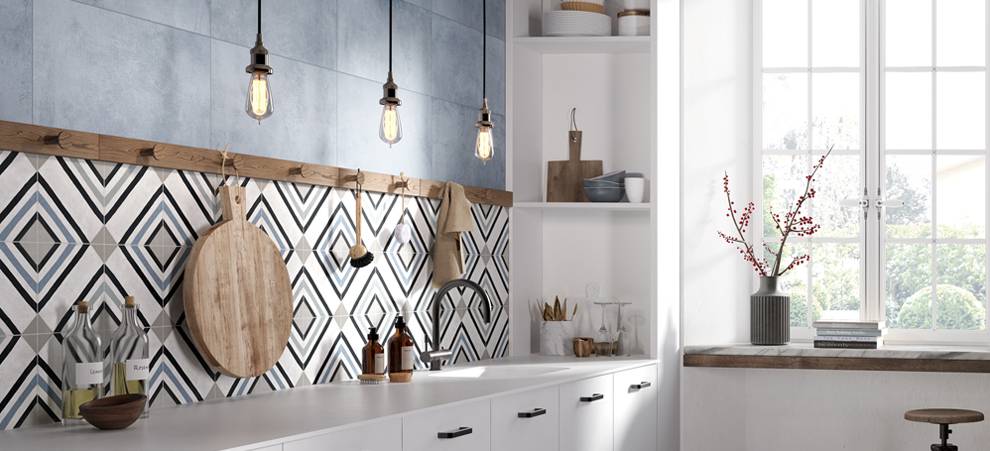 The industrial-style kitchen
Right on trend and increasingly popular, industrial-style kitchens are an interior design trend that teams the aged look with vintage lines, no-frills simplicity with a touch of sophistication and a wealth of details sure not to go unnoticed. Widely loved in the USA, where it emerged in the Eighties when industrial buildings were starting to be reconverted into residential apartments, the industrial mood is also taking hold and gaining in appeal in Italy. Here are our guidelines on how to obtain it.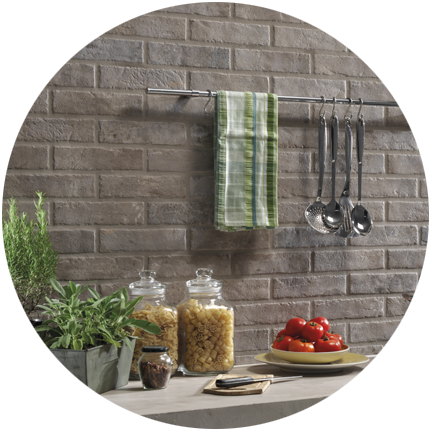 Industrial style opens the door to material textures, with preferably rough and (only apparently) unfinished surfaces. A fundamental role is played here by the open brickwork walls, a must for US loft apartments and a style solution that – in the kitchen and elsewhere – helps to bring a distinctive touch to the setting, creating a mood reminiscent of the industrial buildings the style takes its inspiration from.
The example in the photo shows the brick-effect collection Tribeca in the colour Mud (size 6x25), a porcelain stoneware that's easy to clean, resistant to surface scratching and waterproof, for a practical, 100% industrial-chic kitchen.
Industrial style has a predilection for neutral colours, obviously including a wide range of nuances of grey and tones that are a must to achieve this mood in the kitchen. However, if you're concerned this colour might make for an overly cool setting, then you might like to opt for an equal neutral, but warmer and more inviting shade, such as the dove nuance in the Pietre di Fiume collection, for example, a perfect compromise between beige and grey.
The rest of the mood can be created with the furnishings, so go for wood for the wall and floor cabinets and tables, ideal for toning down the rigorous look of the stone effect; metal, all the better if burnished or oxidised, for the finishing elements, chairs and shelving – and don't forget to leave cables, wires and other recycled objects perfectly visible.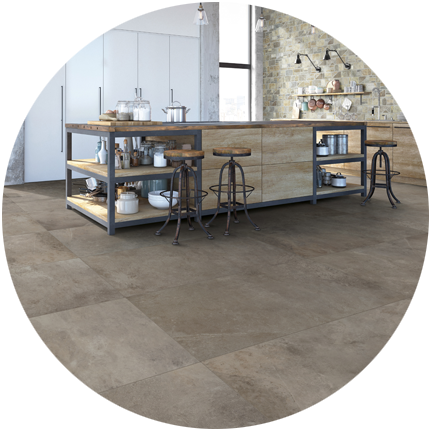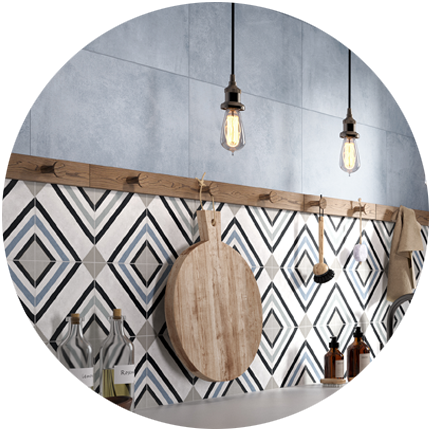 The colour range industrial style is based on is rather rigid, but that needn't stop you from adding elements to bring a more original, informal, creative and less ordinary touch to the kitchen. In this case, we suggest you opt for tiles with striking patterns, or cementine tiles, surfaces that allow you to bring a very personal slant to small areas, such as the wall behind the sink or the cooking area, adding a cheerful touch of character.
In the photo, the elegant concrete-effect stoneware of the new Industrial Color Chic collection – in the Smoke shade on the floor and in Royal Blue on the wall - has been teamed with the geometric patterns of the cementine tiles from the Swing series, for a touch of pure retro charm. The result is a setting in which industrial meets chic, and the colour combination creates a smoothly blended effect.