News
style advices
and curiosity
from the world
of ceramic
Into the Wood
Wood never goes out of fashion, even in 2019. Sustainability is the key concept for the new year, and wood-effect stoneware remains an innovative solution to breathe new life into a genuine classic of the contemporary home. Thanks to the versatility of the tiles and their ability to mimic the sizes, nuances, gnarls and grains of wood, stoneware becomes the perfect complement to modern, sophisticated furnishings with a strong material and colour identity.
It's all a question of choosing the right combinations.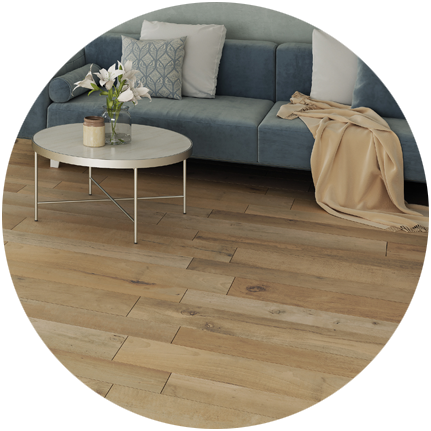 A simple yet comfortable look, created with a combination of 20.5x100 and 15x100 listel tiles from the Aspen collection, with a colour range reminiscent of the world of nature and the light shades typical of the original Scandinavian style. The result is a smooth balance between the modern, minimal look of the furnishings and the natural warmth of the aged look created by the wood-effect stoneware. Simple, clean-cut lines and plenty of light, able to spread a pleasantly relaxing atmosphere throughout the setting.
For a design focused on maximum elegance, dare to experiment. The secret is to combine opposing elements: soft fabrics such as velvet with metal inserts, a dark wall with the honey shade of Bricola, a collection characterised by a superb sense of style and offering the opportunity to create original colour combinations. The 30x120 rectified size teams the sophistication of wood with the hard-wearing properties of ceramics to create a leisurely environment with a sophisticated, timeless charm.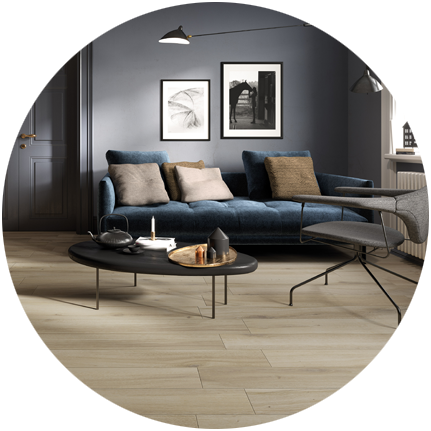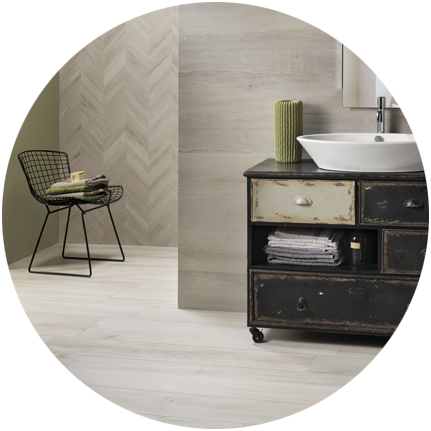 The recycling trend is taking over every corner of the home. Old furniture, turned into new furnishing accessories, gains a new lease of life even in the bathroom, which thus acquires a lively character in perfect urban style. The ideal partner? The Decapé collection, with its herringbone decoration in wood-effect stoneware that brings a dynamic pace to the smallest, most relaxing room in the house, teaming elegance and style with technical qualities such as low maintenance, resistance and waterproofing. All these advantages make stoneware surfaces perfectly adaptable to settings with a high level of humidity, making it possible to experiment with wood-effect coverings in a mix of contemporary style and vintage that's right on trend.