News
style advices
and curiosity
from the world
of ceramic

Kitchens today: ceramics, high-tech and natural look
The kitchen is a hub of conviviality and creativity. It is home to the five senses and inspires the authentic pleasure of experimentation.
Here we can unleash our fantasy, not only culinary, but also in the selection of bold furnishing choices. Today, interior design provides us with infinite selections of furnishings and accessories for the kitchen: before purchasing there are a vast array of variables to take into account. Firstly, it is important to acknowledge the furnishing style of the entire abode for guidance in the selection of similar lines and forms, with particular focus on the living area. Please note that aesthetics is far from being the only choice criteria. Practicality, optimal usability and internal structure should be adapted to suit our every need. Those attracted to reflective surfaces, perhaps made from ultra-technological materials, are bound to prefer a clean, essential and minimalist look. Colour and high-tech: an important combination which enables us to create an impressive venue for the day to day preparation of food, in a highly practical environment. These types of kitchens feature led lighting, wine cellars, futuristic extractor hoods and highly functional xl cookers.
The latest architecture and interior design trends strive to satisfy the tastes of those who desire a sober style with natural features. Linearity and tonality which decline the colours of nature: from clay, sandstone, slate to sage, bring to life a relaxing and pleasant living space. Mou, our latest addition to the colour range, imbues wall mounted components and open plan kitchens with welcoming tonalities.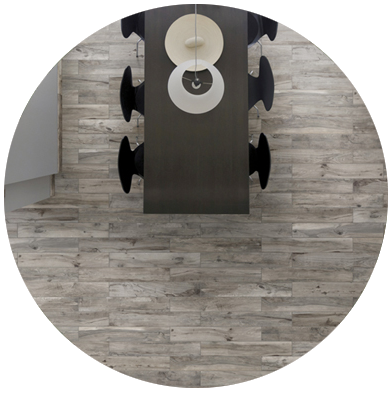 Which flooring is best suited to a natural feature kitchen?
Tiles should be reminiscent of natural habitats. Wood is the finest choice to this purpose. It is important to note setbacks of this material, in terms of resistance and practicality, especially in the kitchen where it is more likely to come into contact with substances causing it to wear.
This is why porcelain stoneware is recommended. Recent and highly evolved digital technologies have led to the development of wood effect tiles so realistic that they produce soft tactile sensations. This material intricately reproduces wood to such an extent that it even features time prints, its effects on the surface. Hard&Soft by Ceramica Rondine is a collection which reproduces finely crafted surfaces to perfection.
These tiles bring to your home the silence of nature, the fragrance and material appeal of a natural element. Available in two formats- 15x61, 15x100 -in a wide range of colours.