News
style advices
and curiosity
from the world
of ceramic

Minimalist and sophisticated? The minimalist look adores cement
The minimalist look is all about creating a practical and resolute mood. It is no surprise that this trend looks great in homes that opt for simplicity and shy away from anything that is not absolutely necessary. Rooms that are spacious and clean, and betray a distinct preference for designs that are linear and tidy, pleasantly symmetrical and well set out. The keyword for anyone thinking of creating a minimalist look is "decluttering". Walls become a blank canvas ideal for showcasing an important artwork; order reigns supreme and furniture is free of ornaments that would obscure their beauty.

This style is a spin-off of an artistic and philosophical movement that first appeared in the seventies, focusing attention on the feeling of space and on maximum freedom of movement. Furniture is in the focus and stands out for its severe looks.
The lines are pure; the shapes and colours are simple. You have to forget any inclination for decoration – banish any hints of deco or baroque - and embrace the notion of essentiality in full. Even how you set your ornaments cannot be overlooked: pieces of interior design frame the room, leaving ample space for people to move around.

Cement-effect porcelain stoneware has steered a new course in architectural concepts: simplicity meets an urban spirit, and ceramics express a new and unusual style diktat. The minimalist look is an ideal solution for smaller rooms too. Floors and wall tiles take up the minimalist challenge, translating it into an unprecedented investigation of colour, made possible by cutting edge manufacturing technologies that offer access to colours that are true to the shades of real stone slabs, of buildings under construction, and of building sites.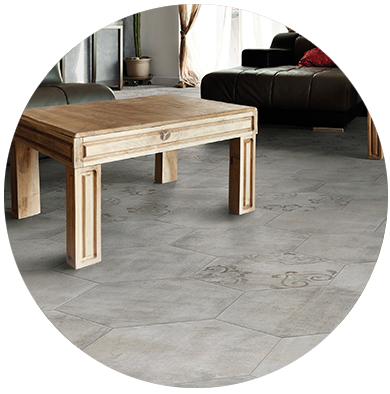 Icon: Industrial and elegant
The signs of the times are imprinted in the ceramics in this collection, interpreted in contemporary colours, referring to NCS shades and in trend with their colours.
This cement-effect ceramic is also available in the innovative hexagonal shape and was inspired by the cement tile floors that were popular at the end of the 1800s, with the advent of the industrial revolution and the resulting increase in the production of Portland cement.
Icon reflects this timeless appeal and reworks it from a contemporary angle.
Amarcord: design and tradition