News
style advices
and curiosity
from the world
of ceramic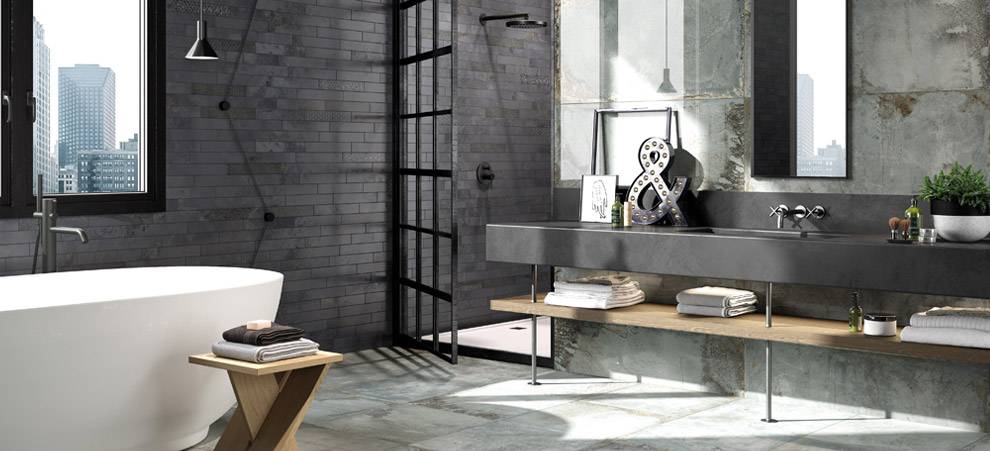 New ceramic surfaces for Rondine: welcome to Oxyd
Urban and industrial. These are the key concepts to breathe new life into home settings. The original touch lies in placing the accent on the effects of the passage of time, by highlighting the oxides that attack the material. All this is reflected in Oxyd, the new collection by Rondine in which imperfections are turned into unmistakeable style.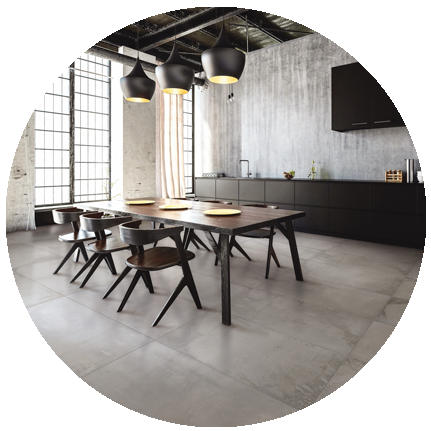 Urban-style furnishings give their very best in large, spacious settings such as loft apartments and open-plan environments. This minimalist, no-frills approach is evident in the choice of a limited number of furnishing elements, because it's the backdrop that sets the tone: with Oxyd, floors and walls are the real scene-stealers, offering a fresh, material slant in which the Light Grey shade is the perfect ally to create a striking, metropolitan ambience.
The latest-generation porcelain stoneware, with its excellent technical performance, is the ideal base for the metallic effect, creating a finish that offers a distinctive take on the oxidised effect of the surface.
Rust has taken hold as a colour trend, ideal for stoneware floors and walls particularly suited to the industrial style, also thanks to the size of the 60x120 tiles, which bring a spacious, airy sensation to every room. The smooth continuity offered by the rectified surfaces of the tiles, with virtually invisible joints, is reminiscent of the large sizes pf sheet metal, for a recycled effect that shapes a look of tremendous elegance.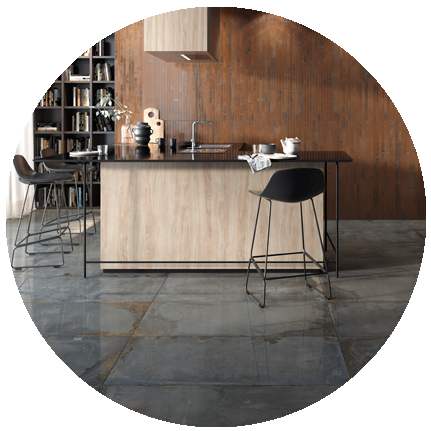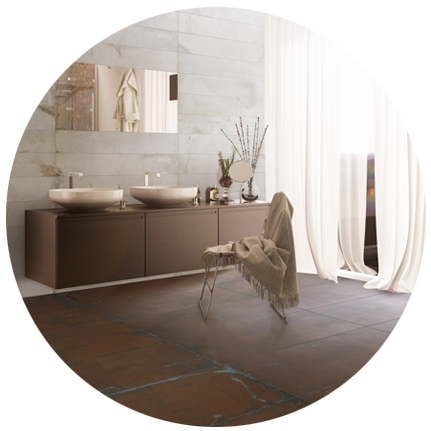 The sophisticated, rusty texture of Oxyd is perfect for the bathroom area, where the weathering steel colour of the stoneware, teamed with lighter shades, brings a touch of dynamism to the whole room, thanks to a delightful interplay of light and shade. The warm, intense colour range typical of rust is also ideal for any other area of the home, capturing a spectrum of nuances that shift from brown to red and are ready to bring a truly audacious touch of character to any wall or floor.