News
style advices
and curiosity
from the world
of ceramic

New solutions for the contract sector.
Designing spaces that are not walled in, able to welcome customers and take them by the hand on a new adventure.
It's called "concept design", but all it really means is placing your ideas at the service of creativity. This is a philosophy a growing number of commercial areas are moving towards, moved by a desire to engage their customers in an authentic experience in which furnishings have a key role to play. Let's see what that role is.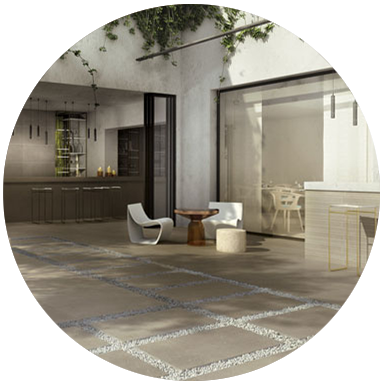 These days, public premises must be able to offer customers an engaging, inviting experience, drawing them in thanks to their ability to awaken particular atmospheres and emotions. So the design process increasingly seeks to create a metaphor, a storyboard…and what better story to tell than our own? And the first thing to do is understand the values we aim to transmit, so we can choose furnishings that reflect the corporate image we seek to convey. An example?
For a technology store, the design project might consider a futuristic style, with linear, geometric lines for the furniture and a simple, sophisticated colour scheme, such as the Galaxy collection. This collection teams the pure character of concrete with the finishes and textures of natural stone, in a porcelain stoneware with a smooth, subtle elegance, available in the sizes 30.5x60.5 - 30x60 rectified - 60x60 rectified - 45x90 rectified - 60x120 rectified and 45x90 rectified, with a thickness of 20 mm suitable for use outdoors to create a sense of continuity with the interior.
When planning commercial premises, it's essential to keep in mind the kind of customers who will be coming through the doors. If we think of restaurants, their "mission" is to offer customers a unique experience, and not only in terms of the food, that will keep them coming back because they remember the splendid welcome they received.
With this "vocation" in mind, restaurants might like to opt for a design that conveys those same values, by offering a warm, comfortable welcome.
How? By choosing furnishings with an inviting, sophisticated allure, featuring warm hues and natural materials.
All these elements can be found in the Amarcord collection, which combines cotto with wood and gives a concrete take to the combination. The two different materials come together to create a uniquely inviting, classic result, perfect for a design project able to guarantee a smooth, on-trend atmosphere.
One of the ideal partners for Amarcord is the Tribeca series in the Brick Generation project, a ceramic solution with a metropolitan edge, in the typical 6x25 brick size and available in a wide range of colours.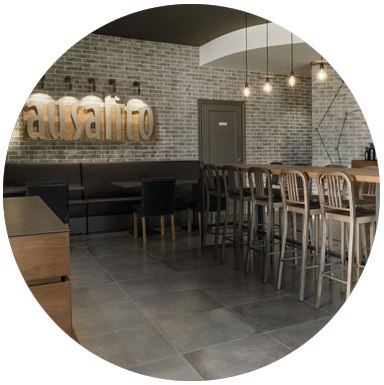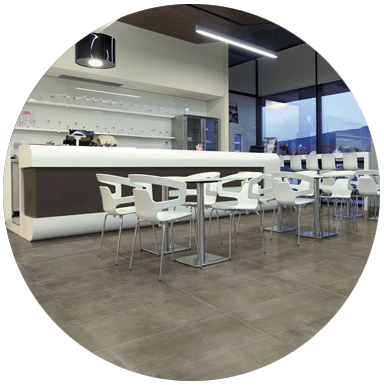 Practical as well as stylish
Whether it's a showroom, an office or a little bistro, no space should ever forget its public function. Style will always matter, of course, but these are settings where the décor and furnishings must always be practical and functional.
This is the philosophy underlying the Icon collection, which comes in a range of strikingly contemporary colours, in the rectified sizes 45x90 – 22.5x90 - 30x60 and 60x60, in the 60.5x60.5 and 30.5x60.5 sizes. It is also available in an innovative hexagon shape.
Icon embodies the finest features porcelain stoneware has to offer, with a surface able to meet a broad variety of style requirements, as well as guaranteeing excellent technical performance and tread resistance and being easy to clean.
All the collections proposed have NCS - Natural Colour System – notation to help ensure a smooth, striking effect when combining tone-on-tone and contrasting shades.