News
style advices
and curiosity
from the world
of ceramic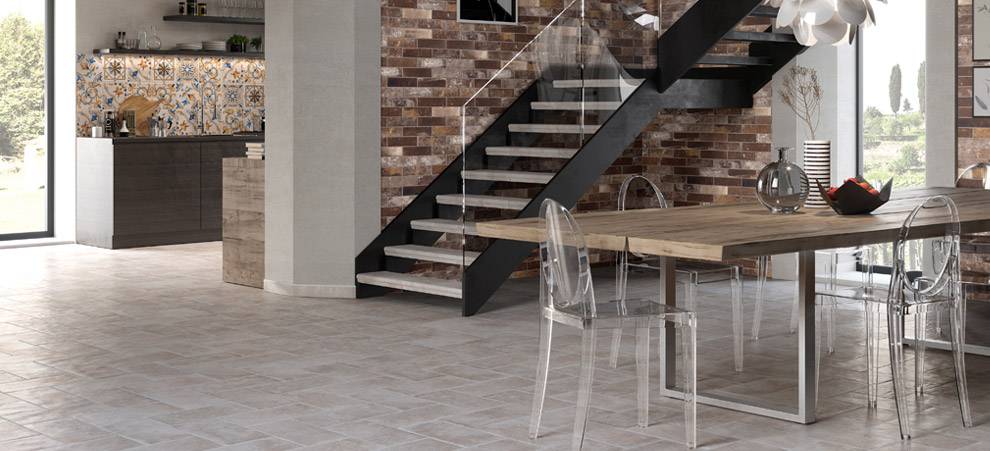 Summer in Tuscan style
Already decided your holiday destination? We're off to Tuscany!

Tuscan style is uniquely warm and welcoming, and this is not just one of the most beautiful regions in Italy: it's also a timeless architectural style that never goes out of fashion. A sophisticated, eclectic design based on references to tradition, contrasted with contemporary elements to shape modern interiors with an eternal charm.
Find out how to bring a touch of Tuscany to your own home.
Tuscan style is ideal for creating an atmosphere suspended between the inspirations provided by traditional Florentine dwellings and the latest furnishing trends, recreating the charm of Tuscan farmhouses with elements with a vintage, country appeal and mixing materials and colours to shape a warm, inviting, casual yet elegant mood. Ideal for bringing a warm touch to any setting, the San Gimignano shade from the Tuscany terracotta-style collection helps you to create the convivial atmospheres that are the hallmark of Italian hospitality. The series can be laid in vertical or horizontal rows, or with a classic herringbone pattern, perfect for bringing a dynamic touch to any floor.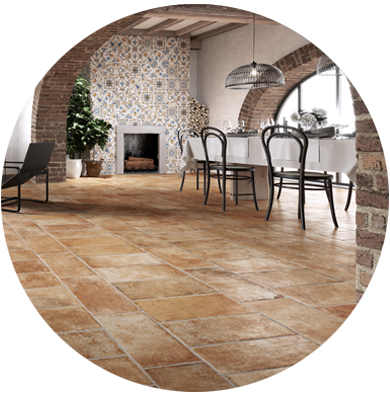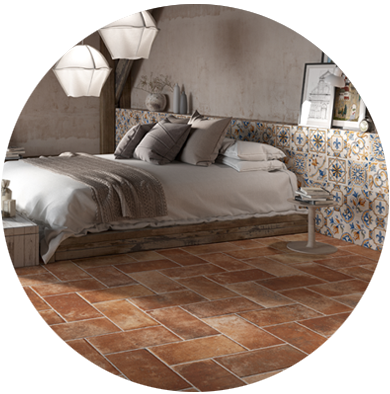 Making the most of existing architectural elements, such as the wooden beams typical of ceilings, is another plus point for those seeking to obtain an authentic Tuscan style effect for their home. In any case, our advice is to opt for a warm colour palette of earthy, natural nuances, creating an interesting contrast with bolder, brighter shades.
An example? The Giotto decor elements from the Tuscany series recall the typical patterns of majolica tiles, and are characterised by beautiful shades of blue, gold and orange. Made in the 20.3x20.3 size, the Giotto decor elements are perfect for adding a lively, sophisticated touch of colour to both floors and walls.
The fil rouge of Tuscan living styles is undoubtedly terracotta, the signature feature of traditional country residences, with its intense colour and iconic rectangular shape. Our new take on this grand classic adds the technical performance of porcelain stoneware, offering surfaces that team the allure of the material that inspired them with impressive resistance, water-tightness and low maintenance. Even for outdoors.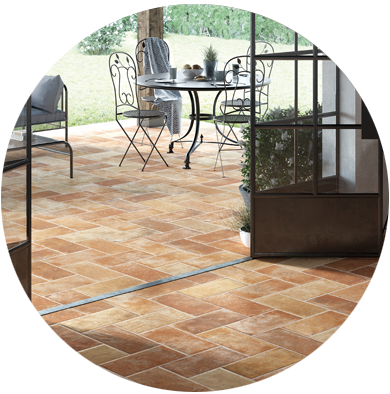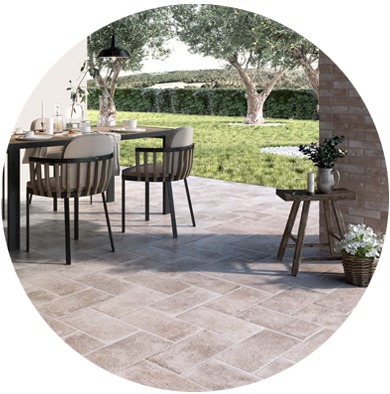 Terracotta-effect surfaces for outdoors are characterised by greater shading and more vibrant colours, with a used effect that mimics exposure to the elements and a pleasantly relaxing design that offers all the technical performance of porcelain stoneware.