News
style advices
and curiosity
from the world
of ceramic

The dimensions of ceramics: it's all about shape
Ceramica Rondine collections offer a wide variety of shapes and sizes. Choosing just the right tile or the most suitable decoration is the first step towards developing a fully rounded architectural project.

Choosing ceramics to dress up your home means choosing a lasting, compact, inert material, a surface able to bring a magnificent touch to the floors and walls of kitchens, sitting rooms, bedrooms and bathrooms, offering a series of advantages and a sophisticated balance of high-performance technical characteristics and aesthetic features.

Porcelain stoneware tiles offer a series of clear advantages, with 6 key points that make them a winning solution. They are:
#1 Hard-wearing
#2 Impermeable
#3 Non-toxic and safe (because they are frost-proof and fireproof)
#4 Versatile
#5 Practical
#6 Excellent at transmitting heat from underfloor heating systems

There's more, however. Porcelain stoneware - an extremely compact material obtained from a mixture of clay, quartz and other minerals – offers even more advantages in addition to those listed above. Its main strength lies in its versatile, modular nature, which allows it to take on a variety of shapes and forms, creating an original appearance every time.
Elegant and sophisticated, or minimal and monochrome: all kinds of styles and trends can be created on surfaces that open up a truly endless range of possibilities.

To create a striking look for the walls of your home, a convincing dialogue must be engaged between the various furnishing elements and floor and wall covering solutions. The minute size is the ideal solution for a traditional appeal. The square or rectangular tile is perfect for creating this type of effect. This category comprises mosaic tiles, which can include both beautiful multi-coloured and monochrome elements. Sizes vary, but the effect obtained is inevitably appealing, and using mosaic solutions for a particular area of the home means discovering an alluring new material slant to ceramic decoration.
Larger sizes, on the other hand, are ideal for those wanting to bring a touch of contemporary spirit to the home, and large ceramic slabs are ideal for bringing a sense of visual continuity to a design project.
And what about colours? The colour palette that can be created on the various tile sizes is truly impressive, and the pigments added to the tile body make all sorts of shades possible. The same colour may be bright or reflecting, thus creating a significant variety of different visual effects. Further creative opportunities are also offered by how the tiles are arranged together, and mixing different shapes creates a graceful, engaging pattern for floors. Laying schemes also contribute to the effects created by different shapes and sizes; tiles can be laid in straight or random patterns, diagonally or in a herringbone pattern.
These are variables that the material universe of Ceramica Rondine illustrates in a huge range of collections.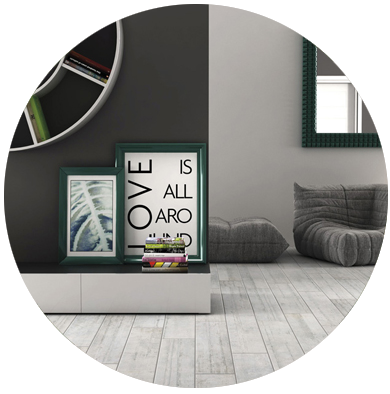 Rectangular slabs: perfect for the home
Tiny tiles to create beautiful details
With the Mystique collection by Ceramica Rondine, you can bring a touch of elegance to a particular corner of your home. In the bathroom area, for example, this faithful reproduction of Indian Slate creates an interesting series of graphic effects.
This is a colour mix created through a series of striking three-dimensional effects reminiscent of the worn, vintage look of slate.
The size featured is the beautifully tiny 4.6x4.6cm, also suitable for the kitchen.