News
style advices
and curiosity
from the world
of ceramic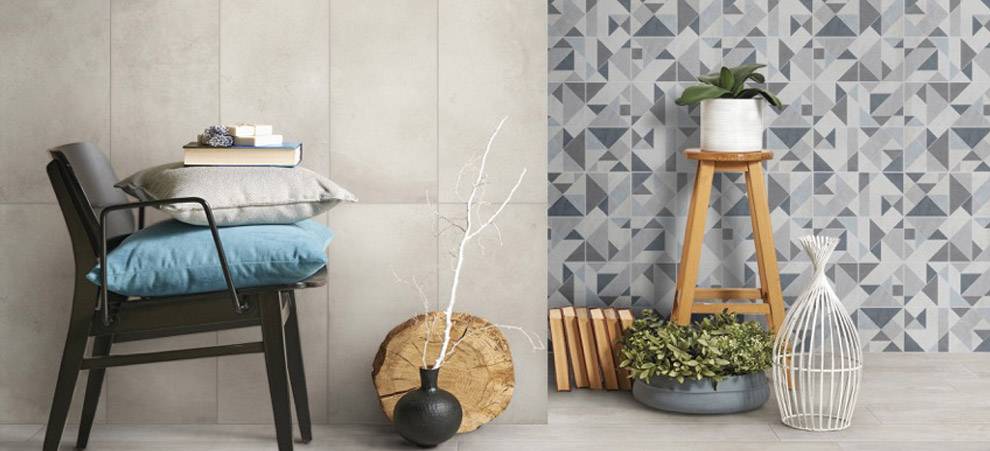 A tile for each style!
Geometric patterns for a youthful, modern home. A classic wood-effect look for those who prefer a more vintage, appealingly démodé look.
And for the industrial-style look that's trending so strongly right now? Brick – a creative, original solution.
Tiles are resistant, supremely versatile and adaptable, making them a must-have to make the most of the style you've always wanted for your home.
Let's take a look at a few examples.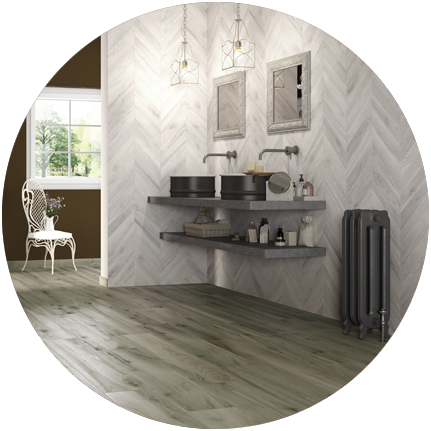 For antique pieces or shabby chic furnishings, the solution for the floors is wood-effect stoneware, with a surface ready to bring timeless elegance to the setting.
The Woodie collection is the perfect example.
The new series of tiles, in the pressed sizes 24x120 and 7.5x45 cm and the innovative 7.5x40,7 Chevron, offers classic shades, including the White and Green shown in the photo, guaranteed to appeal to even the most sceptical of observers and bring out the elegance of any setting.
Youthful, dynamic furnishings
There's nothing finer than a geometric pattern to satisfy a desire for colour, creating vibrant effects that are never too far over the top.
Using jointed geometric effects and combining them strategically with the rest of the furnishings allows you to create a dynamic, carefree, unconventional mood. Take our Squary, for instance.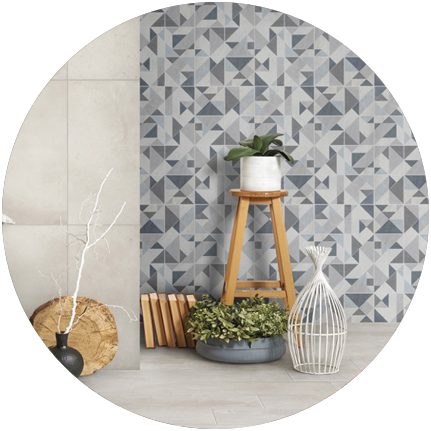 This new cement tile designed by Andrea Castrignano, in the 30x60 rectified size, is the perfect solution to bring a lively, youthful touch to anonymous walls. The geometric decorations are also ideal for teaming both with strong, bold colours and with more classic pastel, neutral or metallic shades.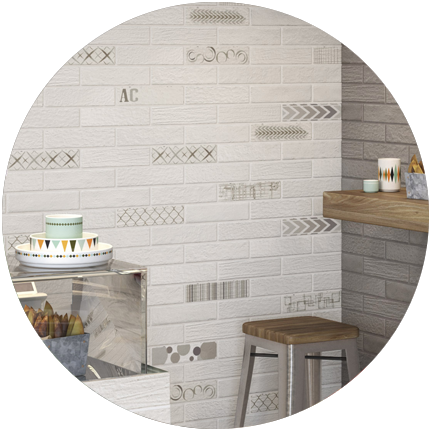 If your home has – or aspires to – a modern, metropolitan look, brick is the ceramic surface to start looking at. The simple, contemporary brick effect has all the character you need to add a confident, urban edge, without being too overpowering. An example?
The Urban & Colors collections offers an original, modern take on all the decorative appeal of brick. The new series of tiles comes in the dusty shades of blue (Balene), light blue (Baltic) and brown (Bracco), all single-colour tiles that look good with the 17 textures (including geometric shapes and barcodes) of the Track series.