News
style advices
and curiosity
from the world
of ceramic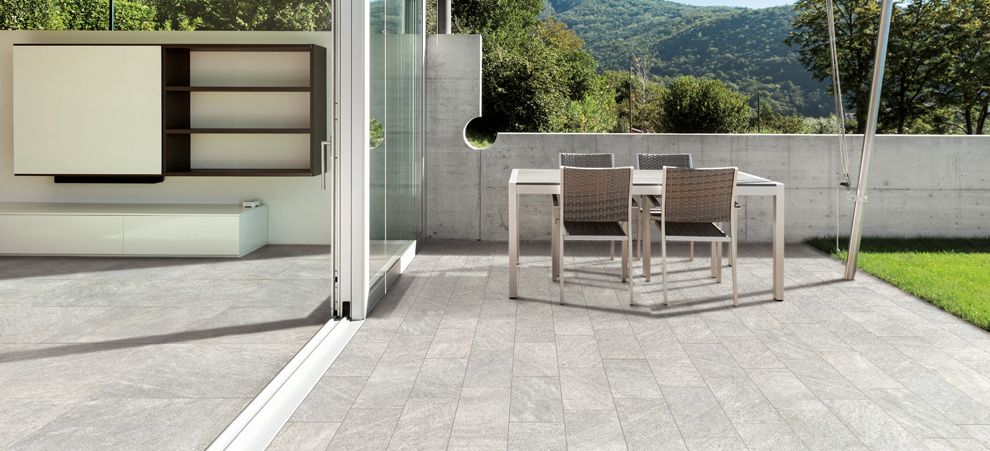 The top trends of 2017
The new year is now only days away and, as always, we would like to look back together with you at the top trends of 2017 in porcelain stoneware for flooring and wall coverings.
A style as eternal as stone
Minimalist, essential and tactile. Stone-effect stoneware elbowed its way into the trop trends of 2017 in a variety of different settings in the home and also commercial spaces, winning over everyone with its real, authentic charm and its sober, sophisticated nuances.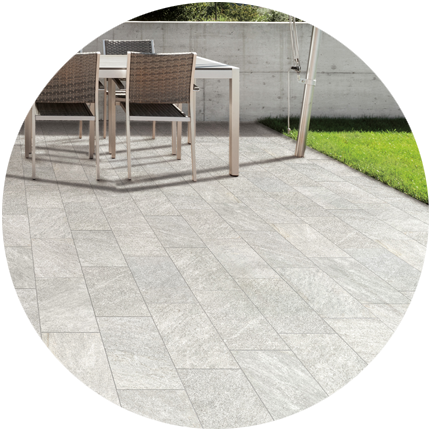 The new Quarzi collection is inspired by quartzite and is available in a range of classic colours – White, Grey, Light Grey and Beige.

The series includes stunningly refined and original tiles to guarantee a wide choice of layout combinations between indoors and outdoors, thanks to the two surfaces it is made of, with a friction coefficient of R 10 for indoor use and R11 for outdoor areas.
Warm, cosy and superbly elegant: this year too, wood has proved to be one of the most popular materials, and has been used, chosen and admired in building renovations. Wood-effect porcelain stoneware offers superior quality and technical resistance. And our range of wood-effects would not be complete without our very own Vintage wood.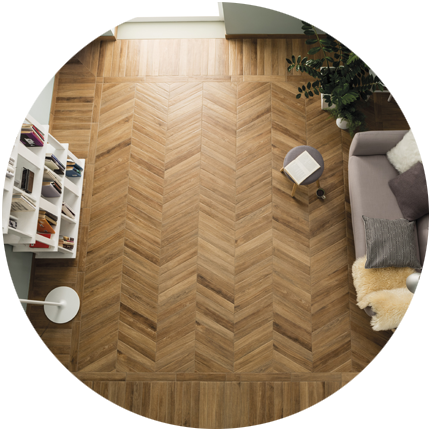 The series has won the hearts of many thanks to its extremely natural look, feel and beauty of traditional parquet, also in a truly original layout of yesteryear, namely the Chevron.

The Chevron layout is particularly sophisticated and became popular in Paris in the 19th century. In timeless Vintage shades it is perfect to add life to any floor and fill any room with a truly distinguished, elegant allure.
Not one, not two, but three stylish dimensions
What we can say with certain is that 2017 banished boring, monotonous walls in favour of wall coverings with brighter colours and daringly visible, modern and contemporary designs.
What's the key word? WOW!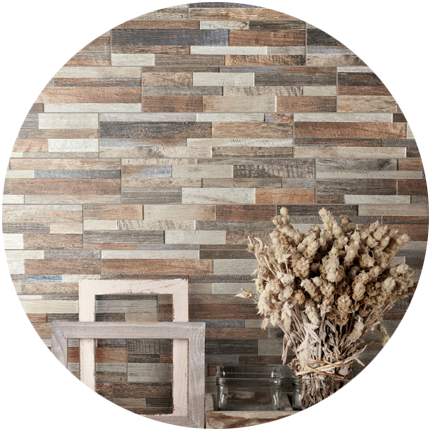 Dynamism and style will be guaranteed with the new Inwood 3D collection. As its name suggests, this series stands out due to a sophisticated wood-effect porcelain stoneware, which is made even more impressive thanks to its three-dimensional design, in turn made possible by the variable thickness of the tiles, from 7 to 11 mm.

The basic shades are three – Beige, Multicolor in photos and Black – ready to add style, warmth and character to the walls in any setting.