News
style advices
and curiosity
from the world
of ceramic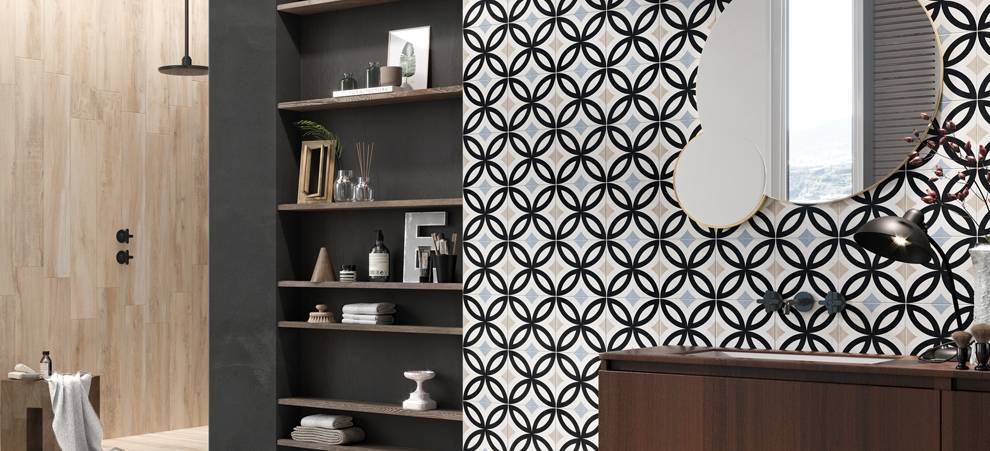 What's the word? Cementine!
Just as for clothes and accessories, the best of the past is right back on trend for interior design. One example is cement tiles, which – with a history stretching back over more than a century – are right up there among the main trends of the moment. Traditional cement decorations, extremely popular in the early 20th century, have today been given a ceramic twist in porcelain stoneware, taking up residence in the contemporary home as the main feature of floor and wall coverings with a dynamic character and a retro allure.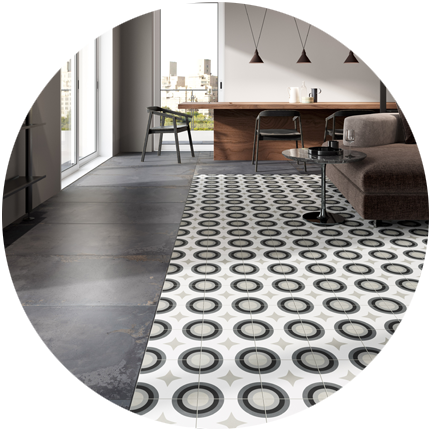 These traditional cement tiles are able to turn floors and walls into beautiful designs worth enjoying and admiring every day. This is the case of our Swing collection, featuring 20.3x20.3 porcelain stoneware tiles that are perfect for creating contemporary ambiances with a tongue-in-cheek take on vintage elegance. Floral decorations, geometric patterns, monochrome elements and optical effects reminiscent of Op-Art: the figurative options offered by Swing are truly endless, ideal for bringing character and personality to any area of the house.
Cement tiles are ideal for bringing a right-on-trend look to the bathroom. Their lively, vibrant, decorative style is enhanced by the technical qualities typical of porcelain stoneware, which is practical, sturdy, impermeable, easy to clean and remains unaltered over time, thanks to its excellent resistance to wear and tear, chemicals and foot traffic. Another advantage is that cement tiles can be skillfully used to mark off particular areas, offering the possibility to combine them with a variety of material effects, as can be seen here in the photo, with the sophisticated wood-effect Decape' on the floor: a pairing that teams modern with vintage, for a look you'll never tire of.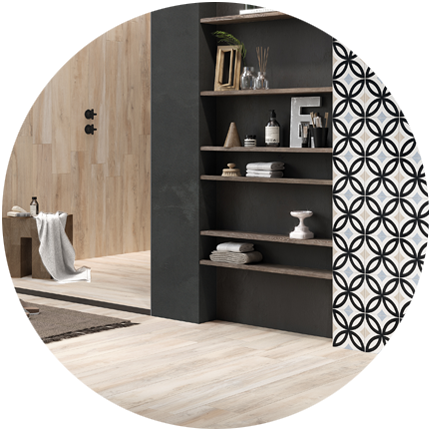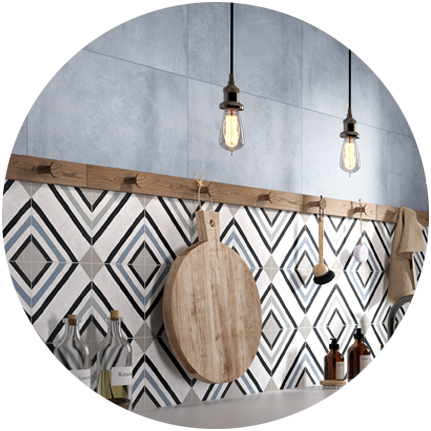 Cement tiles are a must for those who like to experiment in the kitchen, not just with dishes, but with the design. As an insert, they're a perfect decorative element to identify a specific area, such as the part of a wall between worktops and wall cupboards. Ideal for creating striking mix-and-match looks, the Swing collection - pictured here in the colour Blue, teamed with the new cement effect of Industrial Color Chic in the 30x60 size in Royal Blue - offers the added advantage that it's produced without tapering and without spacers, so that there is no chipping of the edges between the tiles, and with a radius of curvature of 0, to give the product the typical appearance of cement tiles.