News
style advices
and curiosity
from the world
of ceramic

When flooring is a natural, material, living surface
The search for an existential, residential dimension close to the materials nature is made of is certainly one of the trends most in vogue in interior design.
The architectural barriers that separate indoors from outdoors are gradually becoming more flexible, while natural elements are increasingly taking up permanent residence within the walls of our homes.
Soft shades, graceful shapes, alluring light and shade effects create agreeable, convivial environments for the living area, kitchen and bathroom. In the bathroom furnishing and furnishing accessories trade, we are seeing a continual focus on the rounded contours typical of the natural landscape, such as on the surface of bathtubs enhanced by beautiful details reminiscent of the movement of the waves, light, airy bookshelves that remind us of trees in the forest, or floral fragments resting gently on sofas and divans.
This approach to interior design, which brings a number of details of nature into sharp focus to turn them into a variety of objects, is entirely inspired by biomimetics, i.e. the application of principles present in nature to technologies and areas far removed from it.

Natural elements, however, have more than a pleasant aesthetic effect to contribute to the home. Sustainability also has a crucial role to play.
Green design, with a careful eye on avoiding waist and re-using raw materials, is undoubtedly an added-value element in modern construction, and eco-design and accessible furnishings are able to successfully combine an eco-compatible approach with simple tastes that nonetheless offer a wealth of fascinating features.
These are the tastes we find once again in the choice of floor and wall tiles that offer a faithful reproduction of the appearance of natural materials.
The wood-effect porcelain stoneware of Ceramica Rondine is a perfect example of this: a ceramic surface able to guarantee a powerfully warm, perfectly structured material, made using technologies compliant with eco-sustainable policies.
In La Foresta di Gres by Ceramica Rondine collection, no trees are sacrificed, with a revolutionary result that takes a fresh look into ceramics to create tiles able to boast the hardness and durability of cement and the attractive veining characteristic of wood.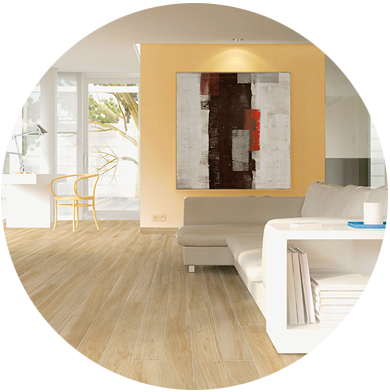 Chalet, a material embrace
Striking, sophisticated settings take shape thanks to this porcelain stoneware that mimics the veining typical of wood, a symbol of power and vitality.
Available in four different colour variants (grey, honey, natural and walnut), Chalet is the ideal solution for anyone seeking the beauty of elegant parquet flooring along with the hard-wearing performance typical of stoneware surfaces.
Visual, the traces of time
An even wider variety of colours is available in Visual, the Rondine Ceramica collection inspired by wood.
Smoke, honey, dark brown, natural, cream and sand: experimenting with these warm shades becomes an inventive exercise that enhances the pleasure of the home. Both hard-wearing and beautiful, Visual is able to create a fabulously attractive, modern effect in which the passage of time becomes the hallmark element.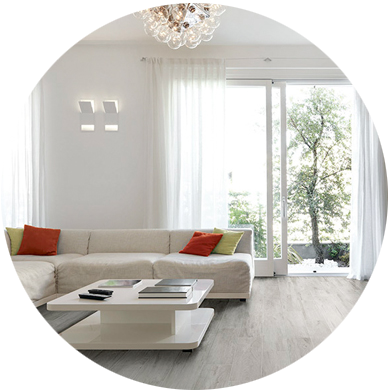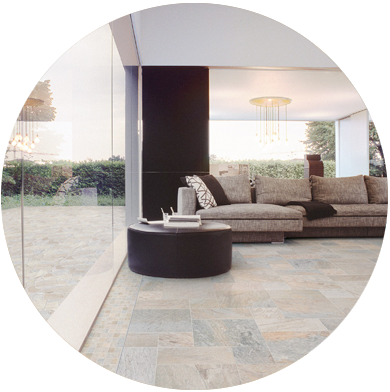 Golden Light, the elegance of quartzite
A strong emotional thrill is also transmitted by these tiles, reminiscent of natural stone. Ideal to create a country-style look outdoors, but also for indoor settings where maximum continuity is sought between indoors and outdoors, Golden Light designs all the alluring beauty of quartzite materials on the floor, with the timeless elegance of stone featuring in a mix of nuances that combine grey ad multi-colour with white.