News
style advices
and curiosity
from the world
of ceramic
From classic to contemporary: which style is best for the bedroom?
No room in the home reflects the character and personality of its inhabitants better than the bedroom. That's why it's important to know how to personalize it, but at the same time it's easy to get lost among the numerous styles on offer today. We've selected four completely different ones for you, ideal for those searching for ideas for renovating or redecorating their bedroom from scratch.
Rustic is one of the "in" styles of the moment, thanks to the warmth of its furnishings with a "rural" and irresistible charm. If you're also among those that have fallen head over heels for the rustic-chic style, the first step to obtaining it is to make way for wood and its hospitable and heart-warming presence.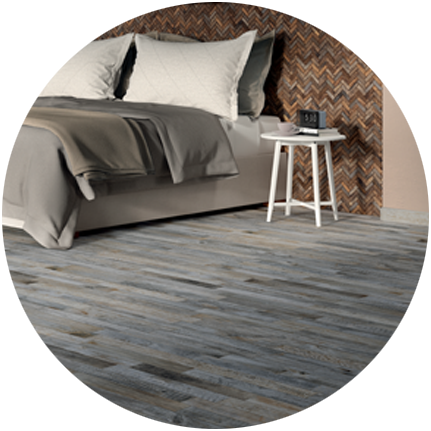 Definitely in tune with this style, the new Inwood series proposes ceramic surfaces with a rugged style, available in 15x100 and 7.5x45 sizes. The colours, mainly in warm tones, highlight all the natural qualities and imperfections of wood, made even more unique thanks to the sophisticated range of hues that can create fascinating contrasting and shading effects when seen in the light.
Classic, but not too much, with Woodie
For those who prefer lines which are classic but also modern at the same time, the advice is to opt for a mix & match of decorative elements that evoke the Belle Époque period, with inlays and references to tradition styles, combined with furnishings with more minimal tones and with an elegant and functional design.

These are adjectives that perfectly describe the Woodie collection designed by Andrea Castrignano.

Made exclusively in the Chevron format as in the photo – particularly fashionable in the Paris of Haussmann in the 19th century - Woodie is available in both warm and classic colours (Beige and Brown) and in cold and modern colours (Green, Blue and White), each ideal for creating attractive chromatic effects when installed on the floor.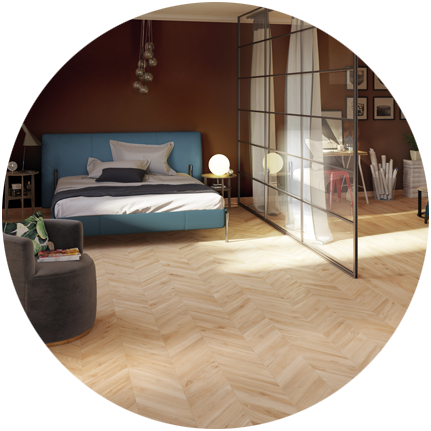 Romantic and dreamy with Palissandro
Soft, powdery shades with a romantic touch are a must-have for those who want to give their bedroom a dreamy feel with a delicate but fascinating style, in which the shabby and Provençal atmospheres combine with furnishings with a retro flavour, with frills and ruffles. If your spirit is decidedly romantic, the choice for the tiles for the room can only be Palissandro.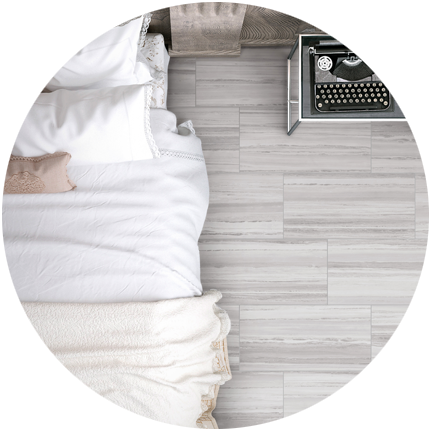 The porcelain stoneware series perfectly reinterprets the Italian marble of the same name, available in reassuring shades, including White, as in the photo.

Able to transmit a sense of serene opulence, thanks to the movement of its veins, Palissandro comes in numerous sizes: 30.5x60.5 natural, 30x60, 60x120 and 30x120 rectified, also in the lapped version.
Eclectic and contemporary, with Denim
If you're looking for less "shabby" details for your bedroom, the advice is to opt for industrial, more Spartan lines without frills, choosing sober tones matched with care and creativity.


Too many colours make you confused? Don't worry, let Denim do the job. The new fabric-effect stoneware is available in six shades - White, Beige, Grey, Light Grey, Dark and Blue – to be combined tone on tone or contrasting with the shades form the NCS.

A piece of advice: don't be afraid to insert alternating colour elements. This series is, in fact, able to resemble wallpaper, lending the walls dynamism and lightness.