News
style advices
and curiosity
from the world
of ceramic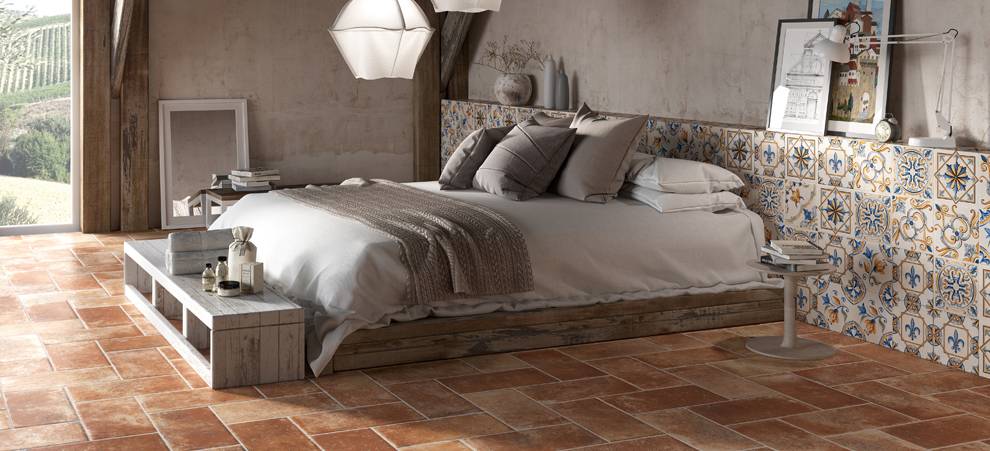 Four ideas for decorating the wall behind the bed
No headboard or padding: just a wall, the perfect backdrop to create a unique, personal, exclusive design solution. The space behind the bed can make a decisive contribution to defining the style of the most private room in the house, creating a mood able to fully reflect the character of the people who live there. Ready to guarantee great satisfaction, in this case, porcelain stoneware is the perfect material partner, able to move beyond its traditional areas of application and become an authentic furnishing solution to decorate the wall behind the bed.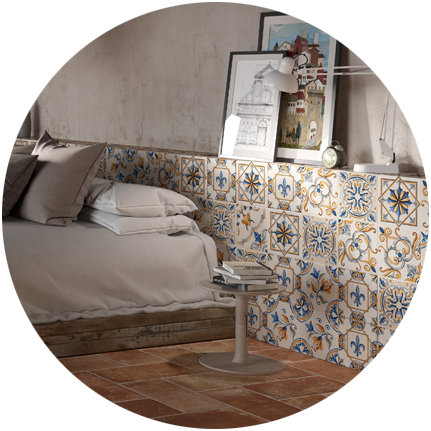 Tuscany and the Giotto decoration
A delightful retro flavour for the Giotto decoration from the new cotto-effect porcelain stoneware Tuscany collection. In the 20.3x20.3 size, this cementine tile is able to enliven any wall with a unique mix of taste, colour and a cheerful allure, framing the bed with an extremely sophisticated, creative touch. Delicate yet extremely decorative, the Giotto decoration is perfect both with minimal, modern furnishings and with furnishing accessories inspired by the country chic look, able to create a warm, cosy, familiar ambience.
Bristol and the brick effect
Sometimes all it takes is a confident shade of colour to solve the problem of the wall the bed rests against. Take the Cream shade from the Bristol collection, for example. The porcelain stoneware wall covering offers an extra-contemporary, ultra-trendy brick option, able to bring a post-industrial design allure reminiscent of the English city it takes its inspiration from. Available in many sizes, including the 6x25 option in the photo, Bristol offers tremendously appealing, sophisticated surfaces, able to turn the metropolitan atmospheres of brick into striking furnishing solutions for the bedroom and beyond.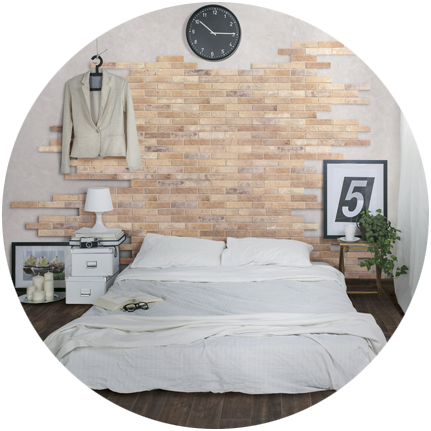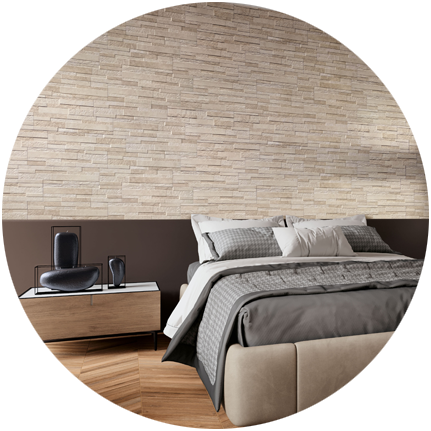 Tiffany, three-dimensional marble
The Tiffany collection is ideal for anyone seeking to bring fresh pace to the wall behind the bed. This porcelain stoneware series shapes marble, turning it into an authentic, three-dimensional furnishing element, an expression of our constant commitment to offering novel solutions in terms of style and technical performance. Able to bring a matchless charm to the room, the Tiffany collection offers 15x61 surfaces with an elegant, contemporary design, ideal for creating simply unique design solutions.
Greenwood and the 7.5x45 size
Sensual, eye-catching and exclusive: there's no other way to describe a wall behind the bed tiled with the sophisticated wood-effect porcelain stoneware of our Greenwood series. Featured here in the delightful Brown colour, it livens up the walls with the splendid 7.5x45 size, ideal for elegant furnishing solutions. The herringbone laying pattern brings a unique allure to the room, giving the wall behind the bed a distinctive, striking personality.