News
style advices
and curiosity
from the world
of ceramic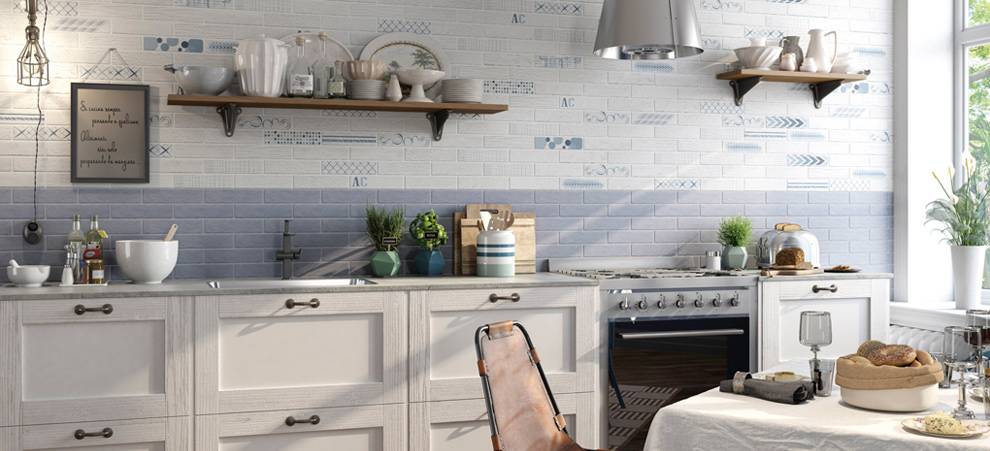 Inside the kitchen
Functional and practical, for sure. But the kitchen is also a convivial setting we enjoy sharing with friends and family, so it's important to pay attention to what it looks like and to make it as personal as possible.
The objective? To make it unique. Here's how.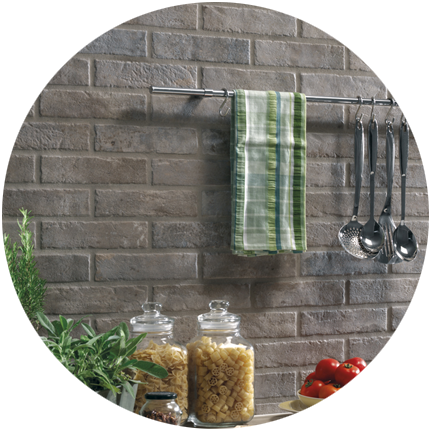 Confident character and an industrial mood
With its timeless appeal and ability to transcend trends, the industrial style is the right solution to bring a feisty touch of character to your kitchen.
Current trends favour simple design, a deliberately raw, material look and a rigorous, sophisticated colour scheme. This mix of elements is ideal for a striking, dynamic kitchen!
- Rondine recommends:
The Tribeca collection from the Brick Generation, which also comes in Mud (in the photo), is perfect for bringing a metropolitan edge to your kitchen, while guaranteeing the warm, homely allure this area of the house requires. In the 6x25 size, this stoneware collection is also waterproof, resistant to chemical agents and easy to clean.
---
Not much room? No worries!
Limited space? No problem! Just because your kitchen is small doesn't mean you can't make it look good. Design solutions can help you create an original look, offering plenty of ideas to make the most of small spaces.
An example? Focus on the details, choosing patterns or textures that give depth and a three-dimensional look to your surfaces.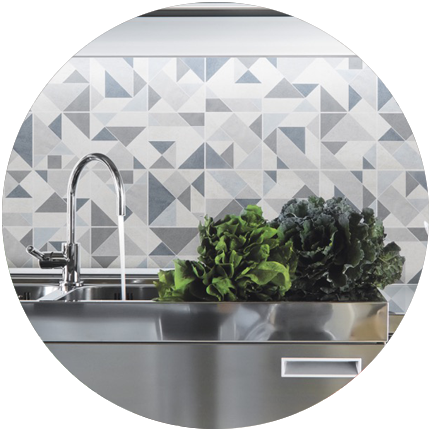 - Rondine recommends:

The cementine tiles in the Squary collection are perfect for livening up any corner of the home, especially the kitchen backsplash, thanks to the vibrant geometric effect, ideal teamed both with strong, bold colours and with more classic pastel, neutral or metallic shades.
---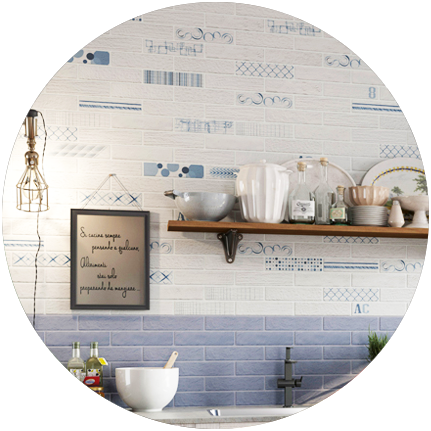 The right combination of shades is able to bring out all the potential a setting has to offer, bringing an elegant, original touch to every surface.
Choose colours that combine to create a smoothly blended setting and shape just the right atmosphere.
- Rondine recommends:

The Urban & Colors collection features a sophisticated, original brick tile, in dusty shades of blue (Balene, in the photo), light blue and brown. These plain colours are perfect for teaming with the Track series, thanks to which the brick effect gains 17 different textures (from geometric shapes to barcodes) you can use to give your kitchen (and other rooms!) an industrial chic look.