News
style advices
and curiosity
from the world
of ceramic

A lecture in style by Andrea Castrignano
At Cersaie 2014, Ceramica Rondine launched the Brick Generation project.
It was on this occasion that Andrea Castrignano became interested in brick-effect stoneware, and met the President Lauro Giacobazzi and the team from the Rubiera company. This was the start of a collaboration that led to many renovation projects under the name of "Cambio Casa, Cambio Vita", unveiled at Cersaie 2016, where Castrignano and Rondine presented three new ceramic projects.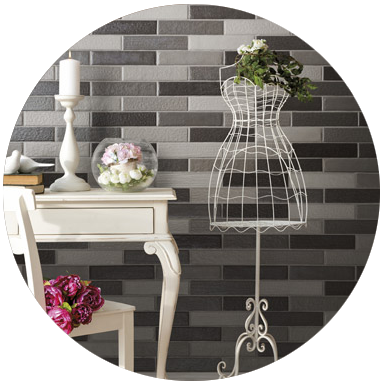 "Urban & Color": a battle against total white!
In Urban & Color, Andrea expresses all his love for colour and its ability to bring a personal touch to living spaces in a variety of different ways.
The collection in brick-effect stoneware – the classic 6x25 cm size - is dominated by a soft, dusty, highly versatile colour scheme, featuring shades of blue, light blue and brown, in two variants: the Shade mix/degradé line – for a more striking look – and the corresponding T.U. plain colours.
The project is completed with the decorative element Track, a pack of 17 different textures in the T.U. white colour that combine perfectly with the 3 coloured base tiles, reminiscent of geometric, stylised shapes.
"Woodie": a brand-new take on wood
Woodie teams different shades of warm, classic colours with cooler, more modern shades to create pleasing colour effects when laying the tiles.
This supremely versatile new collection in wood-effect stoneware is suitable for a variety of both residential and commercial settings. Directly, faithfully reminiscent of wood, it is able to win over even the most sceptical observer.
For this collection, Andrea Castrignano has chosen wide 24x120 cm tiles, the 7.5x45 cm size and the innovative 7.5x40.7 Chevron. All the sizes are pressed.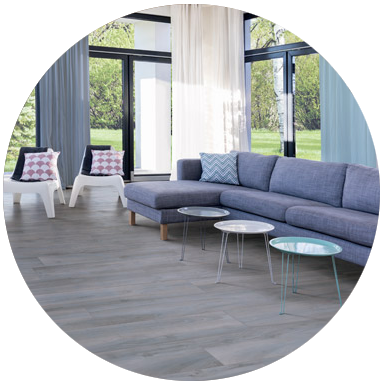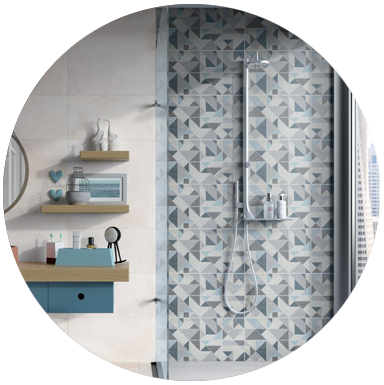 "Squary": original, timeless patterns
Squary is a triumph of rhythm and colour. The new decoration is an appealing addition to Amarcord, the cotto-cement-look collection in porcelain stoneware.
Andrea Castrignano has brought a new slant to the traditional Cementina tile – already offered by Ceramica Rondine in a classic, country mood -, taking his inspiration from geometric shapes enriched with the use of colour. The result is fabulous.
Original, timeless patterns that blend beautifully with both contemporary looks and more classic styles, perfect for bringing a splendid look to the walls of your home, from the backsplash in the kitchen to the walls of the shower, or to bring a creative, colourful touch to public places, from bistros to pop-up restaurants.