News
style advices
and curiosity
from the world
of ceramic
Marble and stone go three-dimensional
Gioia, Palissandro 3D, Quarzi 3D, Tiffany: with these four new collections in porcelain stoneware, our range of tiles with a 3D design evolves and expands. Beautiful style and excellent technical performance are the common denominator of these new ceramic surfaces, perfect for turning stone and marble into strikingly elegant design elements.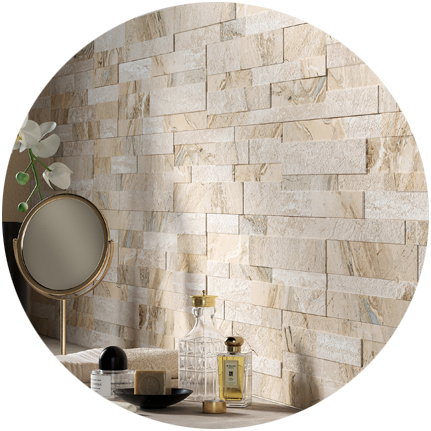 This new wall covering solution teams the sophistication of marble with the bold, contemporary character of the three-dimensional design, shaping tiles able to bring a graceful, tremendously elegant slant to walls. Created in the 15x61 size, Gioia comes in five different shades - Bianco, Beige, Grigio, Nero and the Greige in the photo -, all ready to create confident, sophisticated walls.
Striking a perfect balance between the geometric rigour of 3D and the soft sophistication of marble, the Tiffany series creates classily multi-faceted walls, perfect for those seeking to bring a look sure not to go unnoticed to commercial areas and contemporary living spaces. Created in the 15x61 size and available in five shades (including Dark, in the photo), the marble-effect tiles of the collection dance finely across the walls, creating an incredibly striking mood.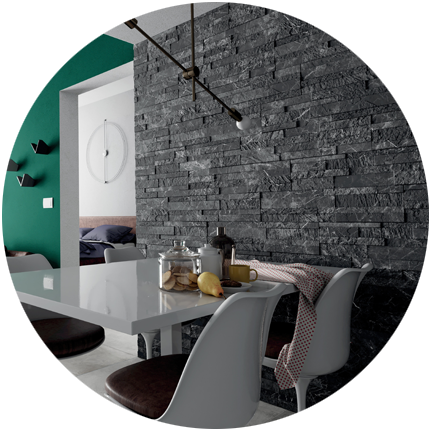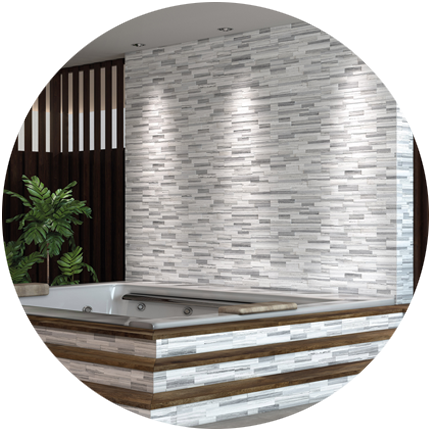 A marble-look covering material ready to become a uniquely spectacular furnishing element. The new Palissandro 3D collection – also available in the 15x61 size – is able to liven up any wall with a delicate visual effect, created thanks to tiles with a thickness that varies from 7 to 11 centimetres, and to the wave effect accentuated by the colour veining of the marble it takes its name from. Ideal for bringing a sophisticated, exclusive allure to indoor areas, this porcelain stoneware series comes in 3 colour options: Azul, Multicolor and White.
The result of painstaking style and technological research, the new Quarzi 3D collection brings an extraordinarily decorative effect to walls, combining the concrete allure of stone with the advantages stoneware offers in terms of resistance, frost resistance, inalterability and easiness to clean. Available in the 15x61 size, Quarzi 3D comes in three colours – White, Grey and Multicolor – and is completed with external and internal corner tiles (20x10x15), to create a continuous, smooth laying effect in any indoor or outdoor setting.