News
style advices
and curiosity
from the world
of ceramic
The sleeping area? To dream of!
Your very own little haven. There's no other way to describe the bedroom: that little corner of your home you retire to rest and recharge your batteries after a long, busy day. It's the place devoted to rest and intimacy, and as such, it deserves a little extra attention when it comes to furnishing it.
The aim is to create a relaxing, inviting atmosphere, with a uniquely personal, supremely comfortable style.
Take a few tips.
The bedhead is an element able to focus attention on the place you sleep and bring distinctive character to the whole setting.
From the classic padded solutions to more original, creative options, make the most of the back of your bed and make it the focal point of the whole room.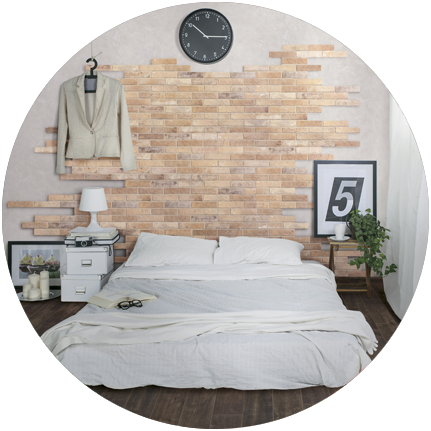 - Rondine recommends:
With the Bristol collection, the appeal of brick and the tactile sensations it offers are given a whole new twist thanks to a porcelain stoneware solution reminiscent of the creative, urban atmosphere of the most vibrant, bustling areas of the city. Available in the classic 6x25 size, as well as in the 34x34, 17x34, 60.5x60.5 and 60x60 rectified sizes, the Bristol collection comes in five shades: Cream (in the photo), Dark, Umber, Red and Rust.
---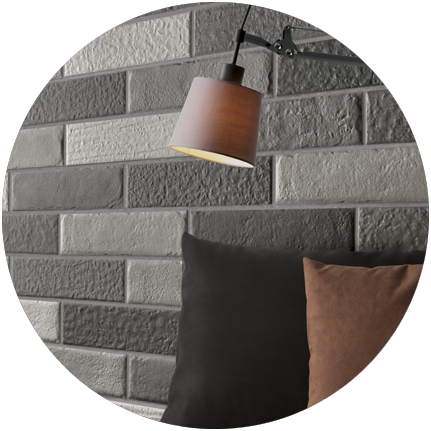 Never fear colours (not even dark ones)
If it's a dreamy, romantic atmosphere you're looking for, neutral or pastel shades are without doubt the most suitable option, and you can choose from a wide range of alluring, enveloping shades.
If you're after a more confident, striking look, your best bet is to go with matt, darker shades that can be used to create bewitching colour effects, perhaps contrasting with the furniture and fabrics in the room.
- Rondine recommends:
With Urban & Colors, beauty peeks in between brick and porcelain stoneware. The 6x25 tiles in the collection offer all the industrial style of brick, with a strikingly original degradé effect. There are three shades available: Bracco (brown) (in the photo), Balene (blue) and Baltic (light blue).
---
Whatever the style you prefer, a comfortable, relaxed and relaxing atmosphere is a must for your bedroom. Falling asleep should always be a dream of an experience.
Forget a showy, cluttered look, and go for a simple, sophisticated furnishing style, featuring natural materials and warm, soft lighting.
A relaxing, peaceful, zen atmosphere is guaranteed.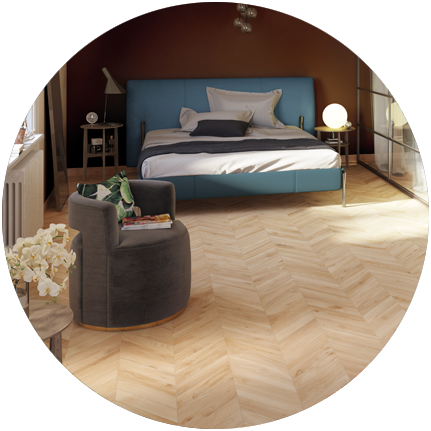 - Rondine recommends:
The Woodie wood-effect stoneware collection comes in warm, classic shades (including the Beige in the photo), with an elegant, relaxing allure. Available in the pressed sizes 24x120 and 7.5x45 cm and in the innovative 7.5x40.7 Chevron shape, this versatile collection is suitable for a wide variety of settings, both residential and commercial.
---