News
style advices
and curiosity
from the world
of ceramic
The top trends of 2018
In keeping with our tradition, we'd like you to join us for a look back on the top trends of 2018 in porcelain stoneware floor and wall coverings. Once again this year, this material is a must for interior designers and design engineers, thanks to its resistance, versatility and the visual and tactile sensations it's able to create.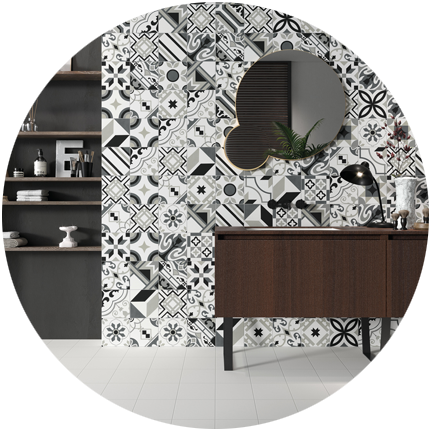 When they make a comeback, they bring a stylish allure in an instant. Cementine tiles have been right in the forefront of trends throughout this long year, with vibrant, colourful surfaces taking centre stage to bring a certain "je ne sais quoi" that's been a must for floors and walls in our homes in 2018. Always with a close eye on current trends, we've also chosen to breathe new life into the classic cementine tiles, with the amazing porcelain stoneware series Swing. The concrete effect of the collection is enhanced with decorative patterns evocative of Art Deco at its finest and the hypnotic geometric effects of Optical Art, in three colour lines: Blue, Beige Multicolor and Night & Day. With its versatile sizes, Swing is able to recreate residential and commercial settings that are different each time yet share a dynamic, original style.
Inspiration from the past
This year more than any other has seen the return of elements that appeared confined to the traditions of the past, with style solutions interior design trends have taken up and given a modern, sophisticated slant, keeping a close eye on guaranteeing practical appeal. It is these principles that form the fil rouge of our Tuscany series, a porcelain stoneware that has rediscovered the allure of hand-crafted Florentine cotto tiles and turned them into a strikingly beautiful furnishing element. A perfect blend of ceramic craftsmanship tradition and the excellent quality standards of stoneware, this collection comes in a wide range of sizes and colours able to perfectly embody the antique charm of Tuscan cotto, without compromising on comfort and practical appeal.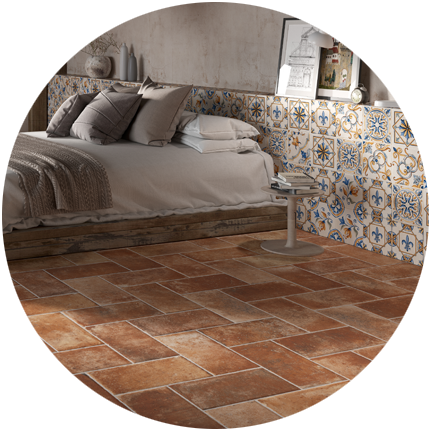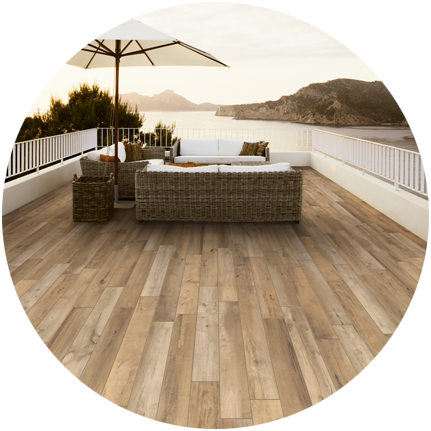 On the subject of tradition, a special mention is merited by wood, an element that each year proves a popular choice for both outdoor and indoor solutions. Warm, inviting and versatile in terms of style and laying options, wood-effect surfaces are a pleasant surprise every time, always ideal for creating exciting new solutions: like our Aspen collection, for instance, that enhances porcelain stoneware tiles will all the unique, authentic grain of Alder wood, for a classic, distinguished mood that can also be created outdoors with the Strong version.
Perfect for bringing an extra touch of character to the bathroom, and even more desirable for the kitchen and living room, industrial style is once again one of the top furnishing trends in 2018, creating a mood that's just minimal enough, with an extra-glam, metropolitan air. These elements are perfectly blended in the new Industrial Color Chic collection. The cement-effect stoneware of the series, a must for creating an industrial style, comes in a pure, simple version, in original shades including blue or orange that can be used to shape solutions for cool, creative floors and walls: perfect for anyone seeking to create a distinctive ambience without compromising on the elegant, subtle touch of cement and industrial style.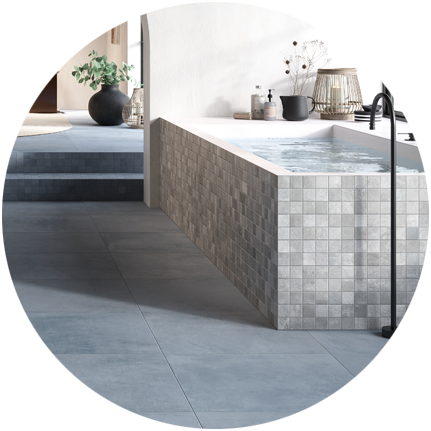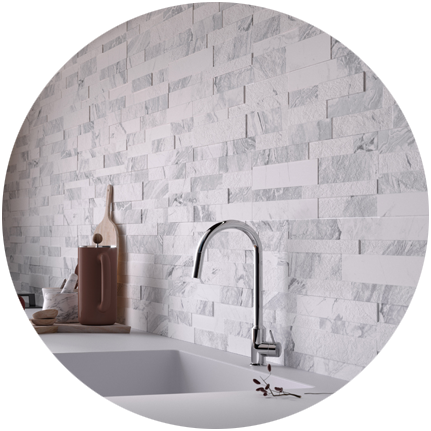 Surfaces with an appealing consistency and material effect. In 2018, the main focus has been on tactile sensations able to completely transform the mood of a room, offering solutions that are less two-dimensional than ever and increasingly striking. This philosophy is evident in our range of 3D collections, which has been further extended this year. Wood, marble and stone have thus been shaped into delightfully striking three-dimensional surfaces, thanks to tiles with a thickness that varies from 7 to 11 millimetres, in the 15x61 size, ready to bring a matchless sense of dynamism to walls.