News
style advices
and curiosity
from the world
of ceramic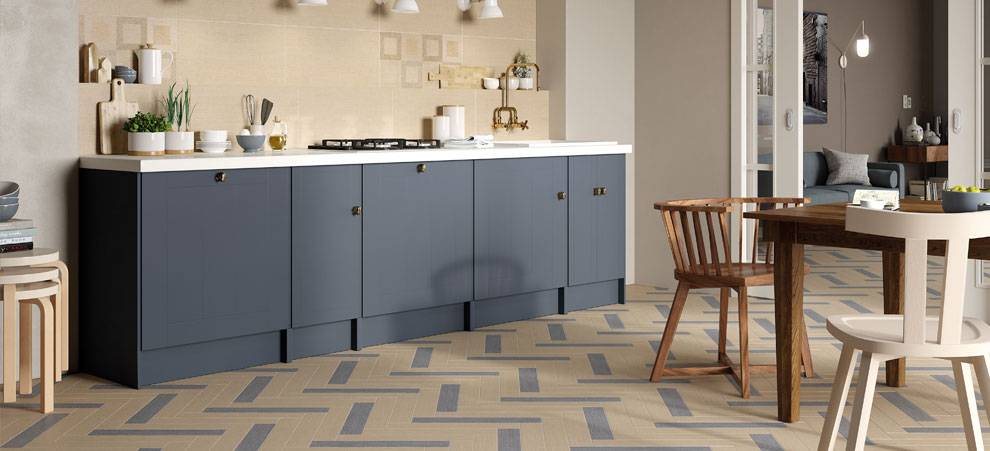 3 kitchen furnishing trends for 2018
Looking for new furnishing solutions for your kitchen? You've come to the right place! Here are three of the main trends in stoneware tiles you can take some inspiration from!
Colour and geometric patterns characterise ceramic tile surfaces for the kitchen in 2018, opening the door to solutions that are lively yet tasteful. Sometimes seen as a daring choice, geometric patterns bring plenty of character to the kitchen in an instant, especially if you choose to mix&match colours, textures and laying schemes.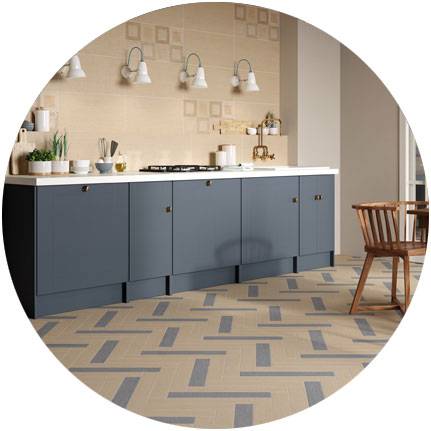 Our Denim-look stoneware collection comes in a wide variety of sizes and decorative patterns, including the sophisticated 30x60 "Square Beige Decoration" shown on the wall in the photo, perfect for bringing a dynamic touch to the whole kitchen area.
The result is given an even more original finish thanks to the rectified 10x60 size on the floor, creating a graceful geometric effect in the two colours Blue and Beige.
The kitchen is not just a place to have lunch or dinner in; it's also the place where we share cosy, relaxing moments with family and friends. This is the concept 2018 trends take most of their inspiration from, offering a green, zen style, whose hallmark is a simple, sophisticated, linear design.
These three adjectives are also the perfect description for our Ever collection in wood-effect stoneware. Wood is the material best able to create a sensation of peace and inner balance, and the graphics and perfectly blended shades in this series are able to create warm, smooth, comfortable settings, given a unique finish thanks to the elegant nuances and shading created by the combinations of wood grains and gnarls.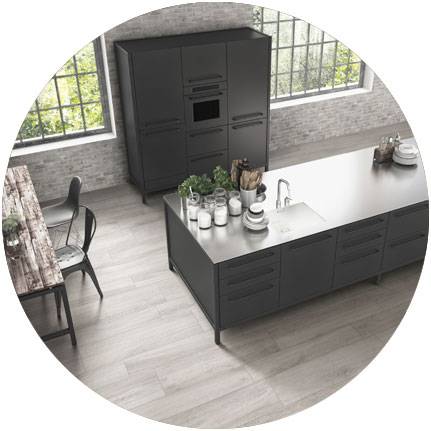 As we've already pointed out, the marble effect is one of the styles that proved most popular in 2017, and this trend shows no signs of fading in 2018. Among the materials that are winning over both architects and private customers, marble is a major trend for the coming year, thanks to its timeless charm and elegance.
Lapped for an even brighter surface than ever, the Palissandro collection continues to be an excellent choice to give your kitchen an original, striking, sophisticated style.
In addition to the 30x120 size for floors, the series also features an elegant 30x30 mosaic decoration (in the photo), the ideal solution to bring an authentic touch of style to the area behind the sink and the hob top.