News
style advices
and curiosity
from the world
of ceramic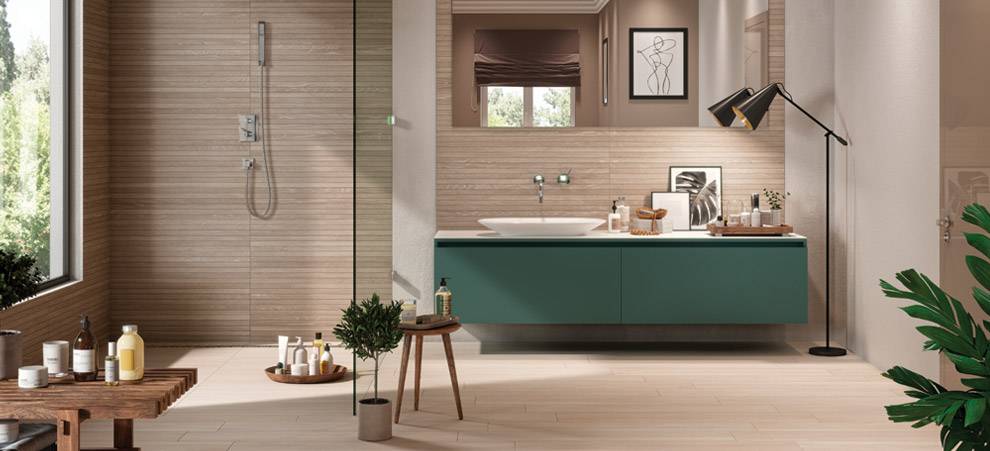 Bathroom coverings: new ideas and inspirations
No longer a mere functional space, but an area to enjoy day after day with style, comfort and quality. The 2019 bathroom has been turned into an oasis and personal refuge into which only relaxation and design are admitted; stress and worry are left outside. Boasting very varied forms of design, porcelain stoneware remains the ideal choice for transforming the most intimate room in the home into a jewel to be personalised with a multitude of inspirations.
Here are our favourites.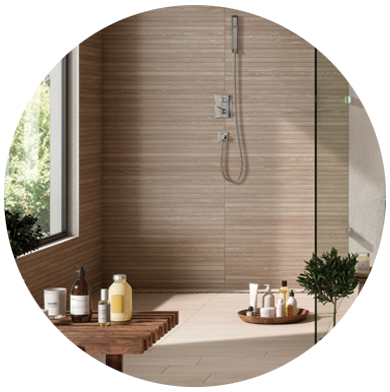 Relaxing touches with Cottage
The wood-effect stoneware in the new Cottage collection? It's able to satisfy any aesthetic requirement, particularly for the bathroom, creating an atmosphere of tranquillity in which to relax and regenerate. The textures and colours of the wood-effect tiles, in fact, lend the walls and floors a cosy, comfortable and always trendy style.
A new addition to the Foresta di Gres, Cottage turns oak wood inspiration into rectified 20x120 surfaces and the Tendina decor, also useable for covering the shower. Impermeable, resistant and easy to clean, the wood-effect stoneware in the collection ensures excellent technical performances, creating a solution of continuity between the walls and floor of pure impact and harmony.
Concrete / Murales: one material, two souls
Clean lines and refined materials. The 2019 bathroom focuses on an industrial-chic and minimal style (but not too much) which finds its favourite texture in the cement-effect of Concrete. Essential and refined, the surface of the new collection represents an original approach to cement, available in an irregular geometric format – the Pyramid 30x30 decoration – with which to create dynamic coverings and give the bathroom walls a strong touch of contemporaneity.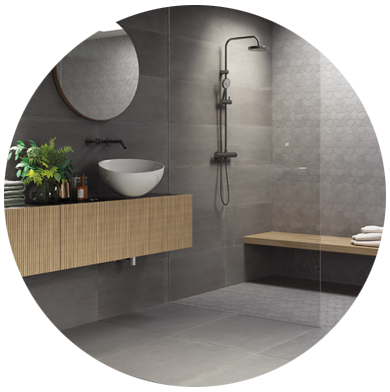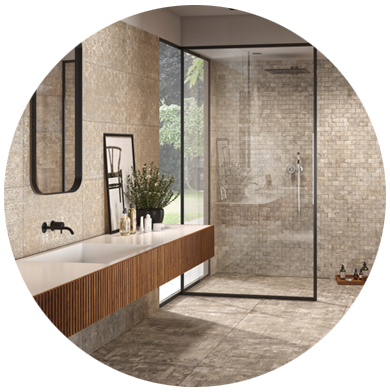 The same material is the inspiration behind the Murales collection, but the style is more luxurious and evokes the opulence of the Arabian Nights. The new series is composed, in fact, of a Bombay decoration – 40x80 rectified – whose gilded reflections and texture slightly in relief make it possible to create sophisticated light effects on the walls.
Artistic cement tiles with Swing
Constantly changing and evolving, retro cement tiles decorations always find their place in the varied world of tiles. A tribute to Art Deco, our Swing collection offers surfaces with which to create graphic patterns with guaranteed impact for a design bathroom able to welcome and amaze. Suitable both for floors and for coverings, the Swing cement tiles are available in three colour shades – Beige, Night & Day and Blue (in the photo) and in the 20.3x20.3 format.