News
style advices
and curiosity
from the world
of ceramic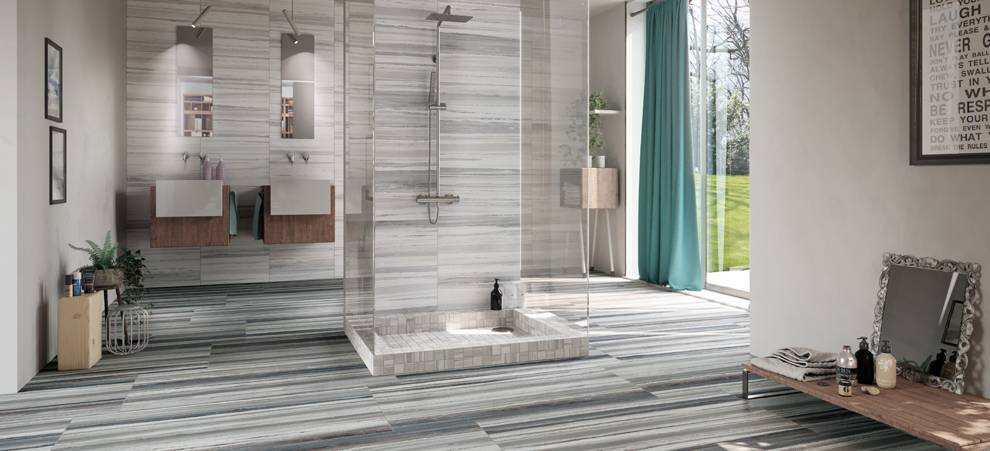 New stylistic solutions for your bathroom
We take inspiration from the veins of marble, the essential feel of wood, the minimalist DNA of stone or the urban charm of red bricks: the bathroom tiles are available in lots of easy-to-combine, different styles and will add a special touch with decorative trims and delightful textures even to the most intimate place in the home.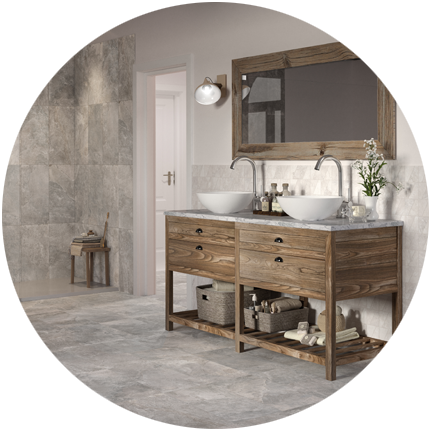 Aesthetic rigour and contemporary design define the most typical material for those who would like a bathroom that is free of frills but charming and unique at the same time: stone. These adjectives are also very fitting for our Ardesie collection.

With this new collection, the bathroom welcomes the most up-to-date moods and trends that focus on the sophisticated and essential elegance of stone. Ardesie is available in a range of cosy, neutral shades, and offers all the benefits of porcelain stoneware, a resistant material that is also non-porous, which means it is not subject to the typical lime-scale deposits found inside showers, and is easy to clean.
For those who would like to turn their bathroom into a sort of refuge from the frenetic urban chaos, we recommend wood, a material that is close to nature and suited to a large variety of styles, from rustic-chic to the more modern and Scandinavian styles.

Calm and relation are words that spring to mind with our Ever collection and its pale nuances that are perfect in a bathroom. This series in porcelain stoneware is enriched by a sophisticated mosaic decoration (shown in photo), with trapezoid-shaped tesserae that help to bring the walls to life and give the entire bathroom sink backsplash a very refined, original look.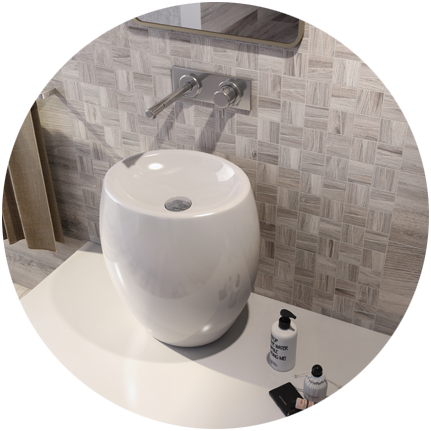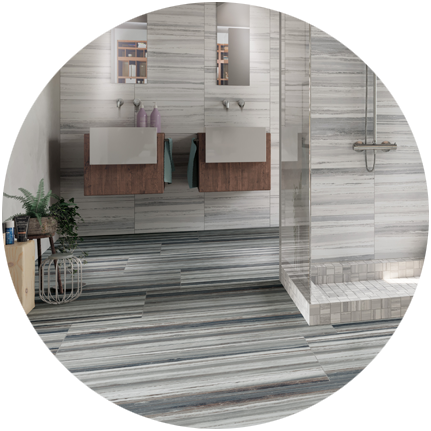 Refined yet with character. If you also replied in this way to the question "how would you like your bathroom to be?" then the material for you is marble, elegant, poetic and classy. Its texture promises the same prestigious, iconic style of its vein markings, which will give the bathroom a cosy, exclusive feel.

An ode to the beauty of marble, Palissandro combines its style with the technical quality of porcelain stoneware, a material that withstands heavy duty, chemical agents, is easy to clean and anti-slip, all characteristics that make it ideal for the bathroom. Palissandro is made in a wide range of different sizes and is available in five colours, including Light Grey and Dark as shown in the photo.
A bathroom with a cool, youthful soul? Make way for the industrial feel! Right-on-trend, the industrial style prefers simple lines, rough textures and exposed brickwork, a mixture of elements that will recreate that intriguing urban feel, just like our own London collection.
The collection is part of the Brick Generation project and is ideal for adding life to sophisticated bathrooms, with the unique touch of industrial-chic contaminations. Available in the classic size of 6x25 and 13x25, the series consists of different brick effects in shades with a sophisticated, metropolitan mood, such as the Sunset shade shown in the photo.