News
style advices
and curiosity
from the world
of ceramic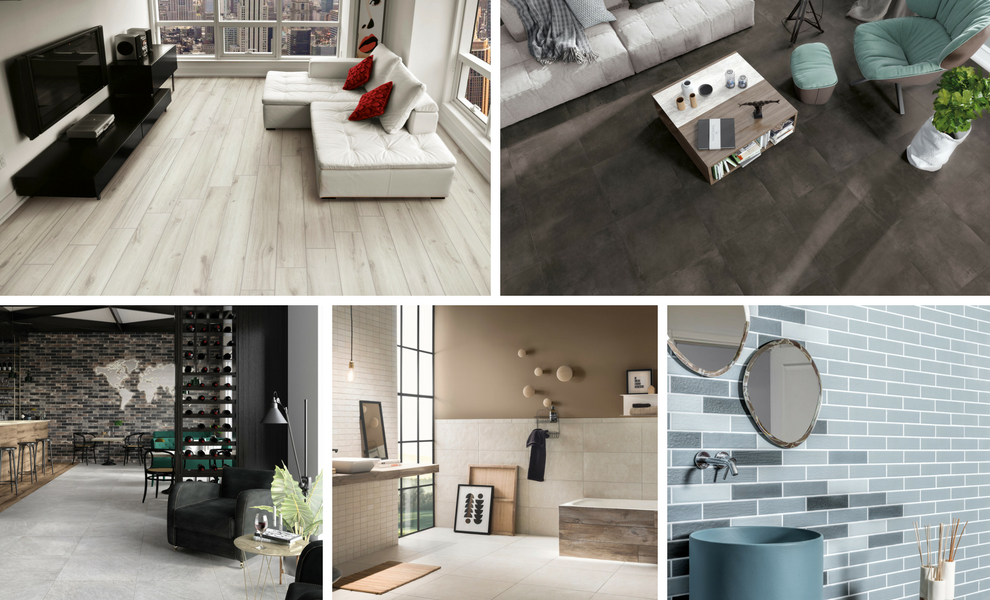 The 5 most stylish colours for ceramic tiles
More than just an accessory, ceramic tiles are an essential element to give a perfect look to the décor of a home and personalise the mood of each environment. Available in a wide variety of effects or stylistic patterns, ceramic tiles in versatile, elegant and tasteful colours are trusted friends of style. Here are five of the most stylish colours.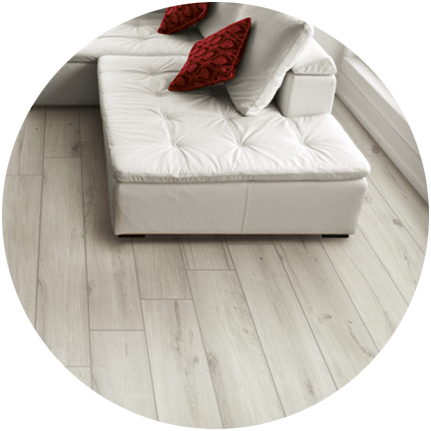 Pure and essential: white certainly does not need any presentation when it comes to furniture and interior design.

One of the most stylish colours for ceramic tiles, it is able to give any environment a resplendent and elegant style, especially if combined with cold shades of grey or more original contrasting shades of black and red. The mood? Simply glamourous.
The purity of white harmonises beautifully with the wood-effect of our Bricola tiles. The La Foresta di Gres collection features refined and enveloping porcelain stoneware tiles that faithfully reproduce the veins of the "briccola" – a post used in Venetian canals to mark the navigable areas – and the rich, shabby aspects of its details. Two sizes are available: 30x120 and 20x120.
Mysterious and very elegant, black is perhaps not the most popular choice when it comes to floors and walls, but it is certainly one of the most stylish colours for ceramic tiles. The colour is perfect for an industrial or contemporary style. It can be used skilfully in a living room to create a captivating and sophisticated mood, strategically combined with lighter and more contrasting shades.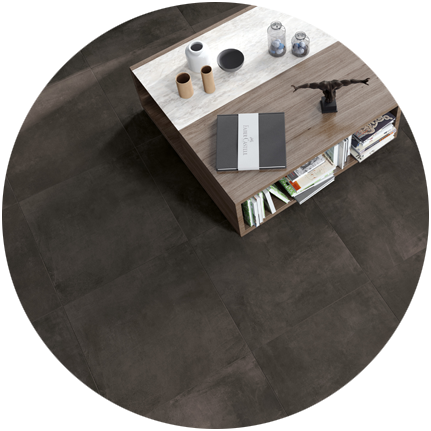 Elegant in a dark outfit, our Volcano Dark can cover any floor with elegance and grace. The range features versatile and trendy porcelain stoneware tiles that faithfully evoke the strength and primitive elegance of cement. Available in a wide range of sizes: 60x120, 80x80, 60x60, 30x60, 15x60, 10x60, 5x60, 30.5x60.5 and two sizes specifically dedicated to outdoor applications, 80x80 and 60x60 with a thickness of 20 millimetres.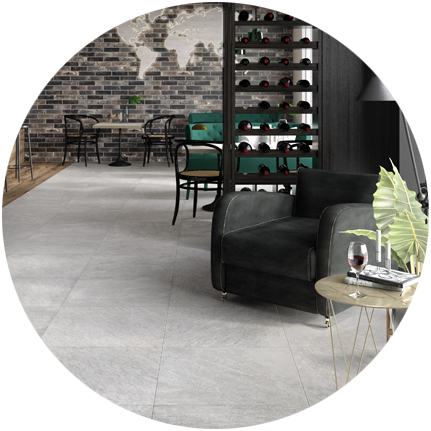 Grey is an extremely versatile colour that can tastefully and elegantly brighten and enhance the shapes, materials and other nuances to which it is added.

A source of inspiration for the most diverse interior design projects, this timeless colour is undoubtedly one of the most stylish colours for ceramic tiles due to its minimalist and elegant aesthetic.
The distinct and accurate mood of grey beautifully complements our Quarzi stone-effect collection. Inspired by the textural strength of quartzite, these porcelain stoneware tiles are available in a wide range of indoor and outdoor formats. It is a true interpretation of style that seamlessly integrates with different types of products, such as the brick-effect Bristol Dark wall tiles (pictured).
Refined, graceful and never out-of-place: beige is a real invitation to elegance and sobriety, making it a very stylish colour for ceramic tiles.

Never aggressive or boring, beige goes with any style – from Scandinavian to eco-chic – easily adapting to any room in the home.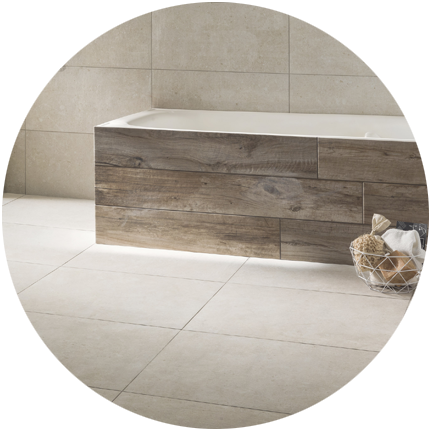 Our Galaxy collection perfectly combines the elegance of neutral tones with the hi-tech performances of stoneware surfaces, such as waterproofness, high resistance to traffic and wear, and ease of cleaning. Perfect with rustic and shabby accessories, the cream tiles, shown in the photo, are able to create a cosy and relaxing romantic atmosphere.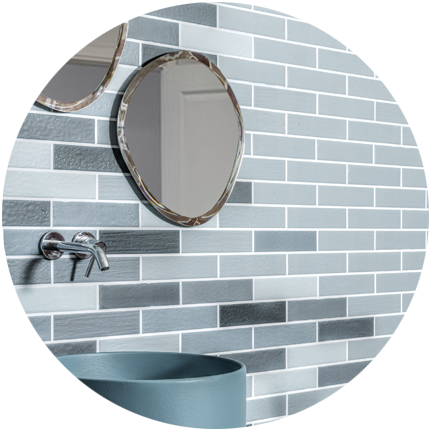 Do you love blue wall tiles? We do. From electric and original shades to cooler and softer shades, blue is one of the most stylish colours for ceramic tiles, ideal to add a touch of elegance to walls and floors. Imagine it, for example, in combination with a modern, vintage or urban-chic décor, in a creative mix that clearly reveals the personality of the homeowners.
Our Urban & Colors range creates original settings with an artistic appeal. The brick-effect porcelain stoneware tiles by the interior designer Andrea Castrignano give walls a metropolitan charm, and come in the most sophisticated shades of blue (the Baltic shade is pictured) without being overbearing or making you yearn for classic total white.