News
style advices
and curiosity
from the world
of ceramic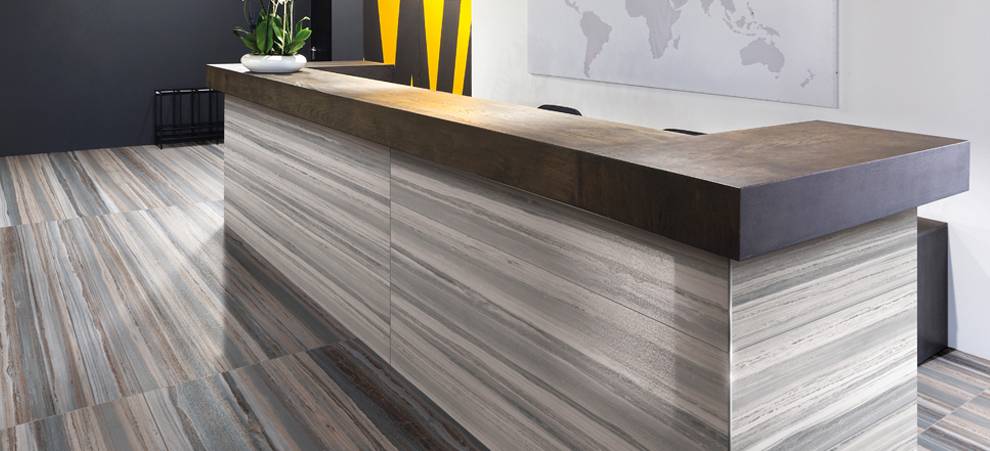 Four collections for every corner of your hotel
Suitable for frequent cleaning and resistant to all types of stress, porcelain stoneware is the ideal material for the design of hotels, holiday residences and luxury resorts, not just for its countless impressive technical properties, but also because of the large variety of effects and material textures it comes in, making it suitable for every style, requirement and setting. Here's an example.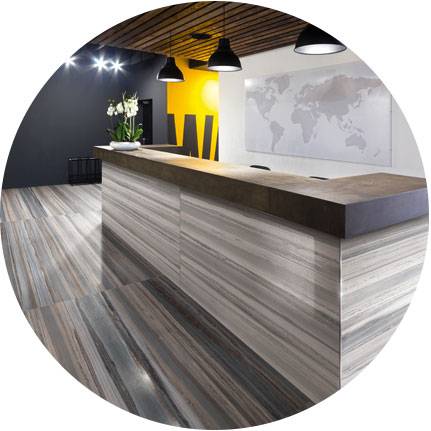 Any reception area can take on a myriad of engaging nuances and a timeless allure, thanks to the Palissandro collection. The never-ending, ever-changing veining effects, the colours that shift from vibrant to more subtle shades on the same slab, the soft surface with brilliant reflections in the lapped version: all the elements in the series make it extremely suitable for high-prestige projects lovers of the most exclusive hotel design are sure to be impressed with.
Elegant, modern and inviting, this food area is tiled with our Tribeca collection. In dusty shades with an exquisite industrial-chic allure (including Grey, shown in the photo in the 6x25 size, teamed with the Amarcord series in the Piombo lapped version on the floor), this porcelain stoneware collection brings a touch of style to the walls, featuring brick tiles with a unique yet subtle character, able to engage smoothly and discreetly with the rest of the furnishings.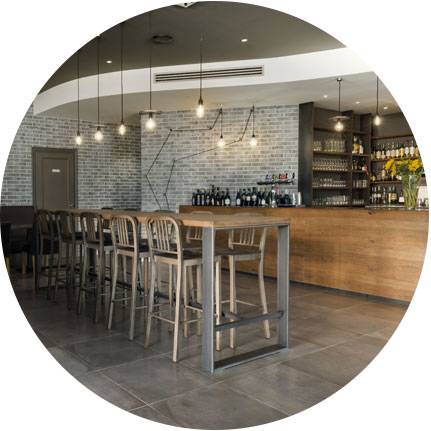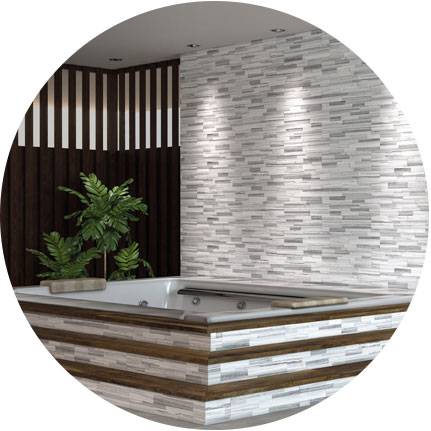 A striking visual impact can be guaranteed for any relaxation area thanks to the blend of soft colours and three-dimensional shapes offered by the Palissandro 3D collection. Thanks to the technical characteristics of porcelain stoneware – resistant, waterproof and easy to clean – the series is able to offer the elegance of marble even in humid environments. In addition, the superbly contemporary shades in the collection –including White, in the photo – can easily be combined with other textures or colours (in the photo, an example featuring the L-shaped element from the wood-effect Greenwood Strong collection).
Concrete-effect porcelain stoneware offers both safety and style for outdoor areas: Volcano, in the 2 cm- thick H20 version, in the rectified sizes 80x80 and 60x60, can be used for splendid, practical laying options in any outdoor setting. The raised laying system, for instance, guarantees easy maintenance, as well as allowing water to drain away effectively and preventing stagnation. Other advantages of the series include excellent resistance to loads, stress and chemical and atmospheric agents and frost, characteristics that remain unchanged over time.